Matthew proposed in September of 2008.  I had two years to get a wedding planned and all under budget.  We were trying to stay under $15,000.  And when the planning began, we thought for sure we'd be closer to $20,000 but after Matt lost his job, we really had to get resourceful and put our thinking caps on.  With that said, our wedding that was held on June 12th, 2010 at the Radisson Hotel and cost us about $12,000 with about 100 guests.
---
Venue Tips
Word of advice... Try to have everything at the same place.  Not only is it easier for your guests but it is easier to negotiate prices since you are having a bigger event.
When we were looking at the Radisson, we loved it and after looking at the menu prices, it seemed right around an affordable place ($56 per person not including tax and gratuity)  After looking at the menu itself, nothing seemed appealing to me... I wanted my guests to enjoytheir meal.  The Radisson always said they were flexible, so I suggested another dish.  Luckily I did, because this cut the price down to $39.55 per adult.  This saved us $1645.00! 
What we had:
Vegetable Lasagna and Parmesan Breaded Chicken Breast
And we were told by many of our guests that it was the best wedding food they have ever had!
BRING YOUR OWN CAKE!  The Radisson offered a cake in their package but after we told them we'd like to bring our own, they credited our package $400.
Our linens were also hugely discounted.  The Radisson did not like the look of their chairs without covers...  So they highly recommend us getting them but we just couldn't see spending the money, no matter how "pretty" they looked.  The linen company that the Radisson goes through was charging us $990 for everything.  What we paid:  $355.96.  The Radisson credited us $634.04!  So there was no argument that we would go ahead and get the linens for all our tables and chairs.
---
Cake
I'm not the biggest cake fan in the world, so I didn't put too much thought into it.  Besides, my sister was a baker at Target so I figured that would be a perfect match.
And it was!
I didn't care for the 4 tired cake.. Or a "wedding cake" big enough to feed each of my guests, so I thought practical. 
We bought an 8 inch round cake, no filling, just for us to "cut the cake" and to share a piece together.  This cost us $10.
Then, we ordered two sheet cakes for $40 a piece - Yellow cake with whipped topping and raspberry filling. 
We spent a total of $90!  For CAKE!  For 100 guests!  You can't get any better than this!
And again, we were praised by our guests on how delicious this cake was! 
So don't rule out your local stores... Target, Jewel, Sam's Club, etc. to do your cake.  You may be in for a huge surprise!

Bonus Tip:  We found our cake stand at Home Goods for only $14.99.  And I love it to pieces!
Bonus Tip #2:  Ask your parents if they still have their knife from their wedding.  We used Matthew's parent's.  It doubles as your "something borrowed" too :)
---
Photographer Tips
You might think I'm crazy when I tell you to go the independent route.. But I insist, I am not! :)
Photographer companies can only discount so much..  We originally booked with a photographer company that seemed right for our budget.  But after dealing with huge communications or no communication at all, we decided to cancel with them.
Being a June wedding, I was a bit freaked, wondering how we were going to find a photographer now under budget.
Long behold, PW comes to the rescue!  Coralwed13 referred me to DMarie Photography.  I decided it didn't hurt to get a quote... Soon did I find out that Dani LOVES to work with budget brides.  Photography is just a part time job for her and it's something she is very passionate about.  Her package cost us $1250 (including the disc to all the wedding photos)  She was there from 8 a.m. to 12 a.m. shooting away, trying to capture everything she could!  Every photographer I looked at only allowed 6 hours or 8...  The highest I saw was 10 until I found Dani. 
So don't forget to research ALL photographers around your area.  There are so many that are starting out and looking to build their portfolio or simply do this as a part time gig, like mine.  People are willing to help other people.  You just have to find which ones. :)
---
DJ Tips
Do you know someone who was recently married??  Ask who their DJ was!  I can't tell you enough on what recommendations CAN DO for you!
My sister's SIL was married March 2009.  We were on a hunt for a DJ but most packages we saw were around $2000!  We were budgeting for $1500.  Finally, my sister gave me the name to the company her SIL used...  Admit One DJs. 
We met with them and we LOVED them.  We were in the office just talking to the manager for hours!  Then, all I kept thinking was "we're not going to be able to afford this company"...  We mentioned to the manager that a friend of the family used this company.  He then asked us for their names.  I gave it to him and he went to do some research and came back to us offering the SAME PRICE that they charged for their wedding.  Even though June weddings are in higher demand, the manager couldn't see charging US more than my sister's SIL.  That brought the price down from $1700 to $1300.  In the end we paid just $100 more because we needed an extra speaker for outdoors.  Still staying under $100 from our estimated budget and $600 from all other DJ companies!
---
The Dress
I went to David's Bridal for my dress.  I went in with a budget for $500 (not including alterations).  I didn't want to spend too much and I figured $500 was a good amount to start with for a wedding dress.
I then fell in love with her:
She was originally $600 but they had a sale going on so I saved $50, paying only $550.
Word of advice:  If the dress size you tried on still seems a bit big, TRY ON THE SIZE SMALLER.  The sales lady insisted I would be in the size 8 but I felt the dress was HUGE on me, so I wanted to try on a size 6.  Long behold, it fit a hundred times better and saved me later on major alterations. 
With alterations, find a friend of a friend... Start asking around!  Bridal salons tend to rack up the prices for alterations... So there was no way I wanted to go back to David's Bridal for my alterations.
My MIL knew someone who used to come into her work building all the time.  I ended up LOVING her work!
Total cost for alterations: $125; which included taking it in half an inch on each side, many point bustle, hemmed. 
---
Bridal Party Dresses
You're not the only one who needs to cut costs.  Bridal Party dresses can be so costly!! 
Bridesmaids 
After arguing with my DH over short dresses vs. long for our bridesmaids, DH insisted on long.
Then, I fell in love with Alfred Angelo's Style #7017: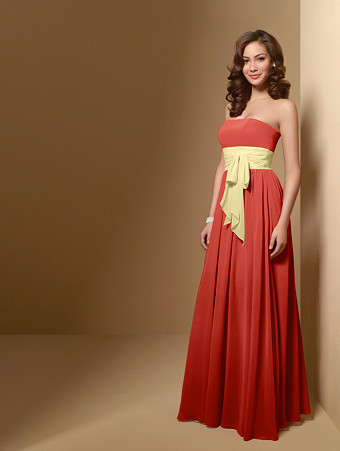 I thought for sure this would be way out of my bridesmaid's budgets. 
I knew I wanted to keep it under $150...  This dress retailed for $180, I later found out.
But I didn't give up...  I checked House of Brides and they had the dress for $140! 
So don't think that after finding the price out at one bridal salon that they will all be for that price... Do some research!  I was so pleased to have my girls in these dresses..  They were flattering, they were LIGHT, they were beautiful.
Flower Girl Dresses
Check your department stores!
We found both of our green flower girl dresses from JCPenny for $25 and $12!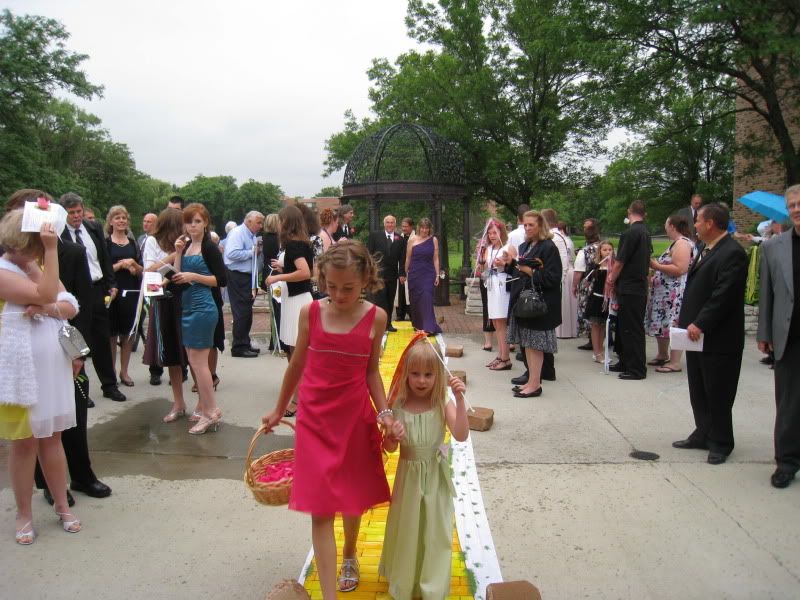 ---
Men's Wear
Find the deals!  I know this is a pretty common one, but it saves you $150 or so...
Men's Wearhouse seems to always have a sale on their tux rentals.  If your groomsmen or fathers rent their tuxes through Men's Wearhouse, the groom's rental is FREE (including the shoes). 
It really is a great deal for YOU.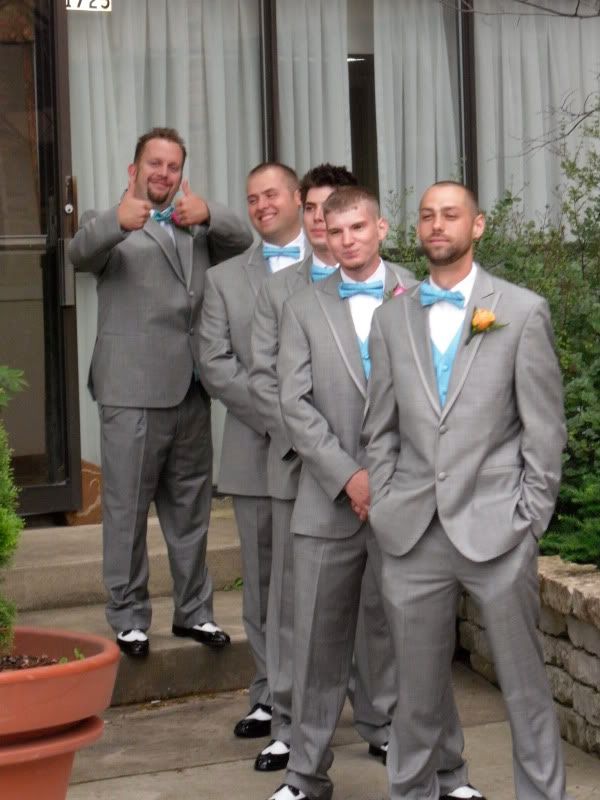 For your ring bearer, check out Burlington Coat Factory.
We picked this up for $15!
---
Etsy Alchemy... USE IT!
I can't tell you how many times I have fallen in love with things that other brides had that I just couldn't afford or justify paying for myself...
Exhibit A:
Haute Bridal Bracelet:
This one alone, retailed for $307! 
I knew there was no way I could budget for this type of bracelet... Then I discovered alchemy on etsy
I made my request:
White Pearl/Crystal Bracelet
I am looking for a white layered pearl and crystal bracelet.
I attached a photo of a bracelet in which I love the style to.  I would look for something less complexed and simplified than the brooch that is shown in the center.
I would also want to see a photo of the bracelet before purchasing.. This is for my wedding, so I want to make sure it's exactly what I'm looking for :)
 The price I posted was $15.  I really had no idea what to price it at, so I low balled it.
Long behold, I get a request for what I'm exactly looking for from Som's Studio.  She was truly a gem to work with and made my dream bracelet for $25!  Beat that, Haute Bride! :)
And then, later, I had her make the matching necklace for an additional $50.
Exhibit B:
I wasn't in dyer need to have a cake topper, but after seeing the over sized clay poppy/anemones, I was in love and knew that I wanted one for my wedding.
This poppy retails for $60. 
Again, I wasn't looking to spend that much on a cake topper I didn't need.
I then found Oiolin's shop off Etsy.  She had a clay poppy and lilac display in her shop for only $10!
So I convoed her and the rest is history!
I got my hot pink clay poppy cake topper for only $7!!! :)
---
The Dollar Store, Ebay and Clearance Items are your New Best Friends
From the Dollar Store
Frames
We got these frames and spray painted them white to use for our table names.
$1 a piece for 17.  Total:  $17 for our table names. :)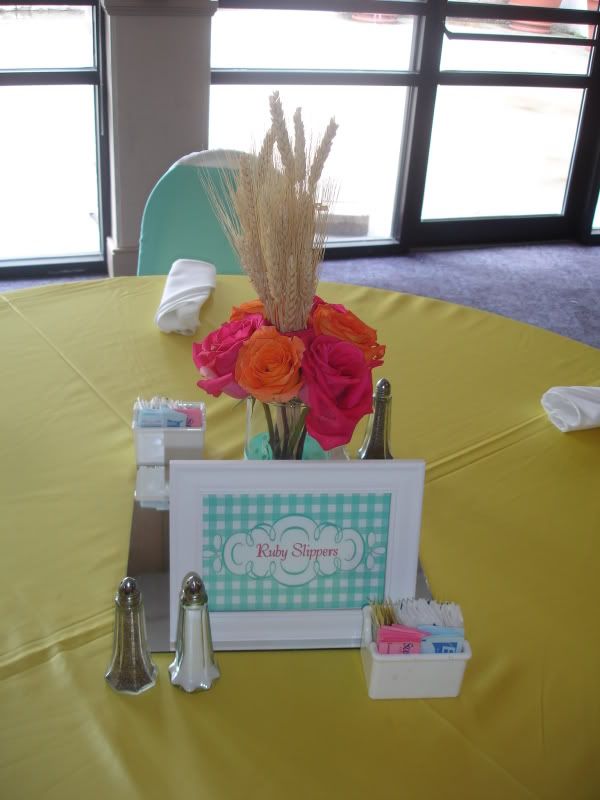 Vases and Fillers
As you can see in the photo above, we used vases for our base for our centerpieces.  We just bought tall clear cylinder vases, again for a total of $17 for 17 vases.  Then we bought about 7 to 10 bags of aqua marbles to put in the vases so that the wheat that we used stayed in place.
Fake Flowers
I made pomanders for my two flower girls.  I grabbed all my flowers from the Dollar Store since I was cutting them off anyway.  My pomanders only cost a few bucks each.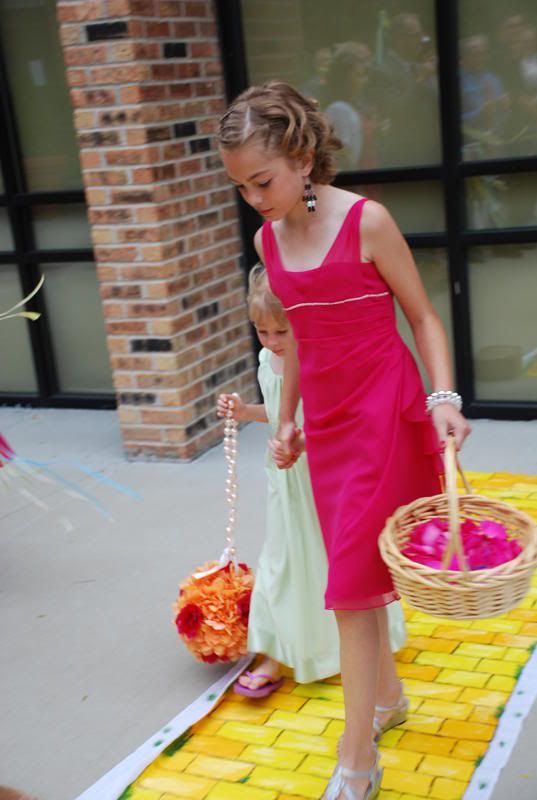 Ebay
I fell in love with the aqua blue Ball Mason Jars that I found while googling many wedding photos.  But everywhere I looked, they cost a fortune! 
I searched and searched on ebay and found them for $4 for $20 and they were later used to hold all the bouquets :)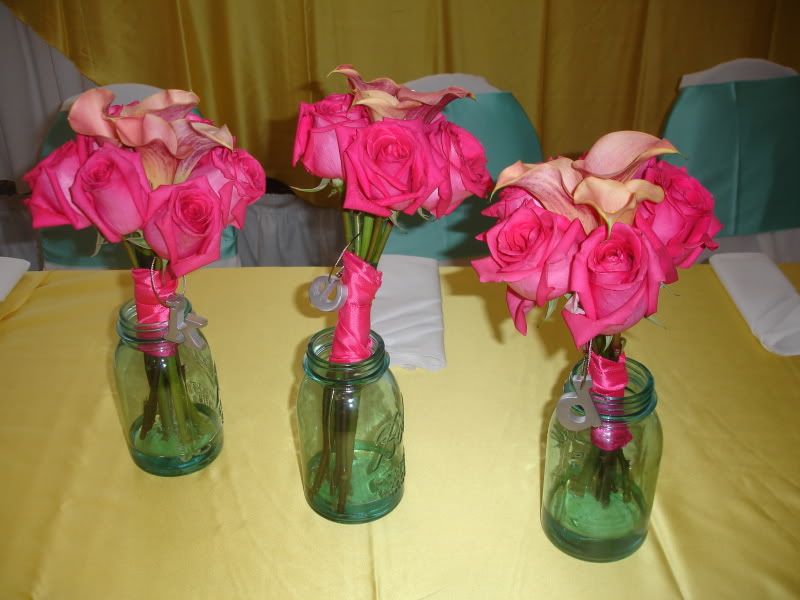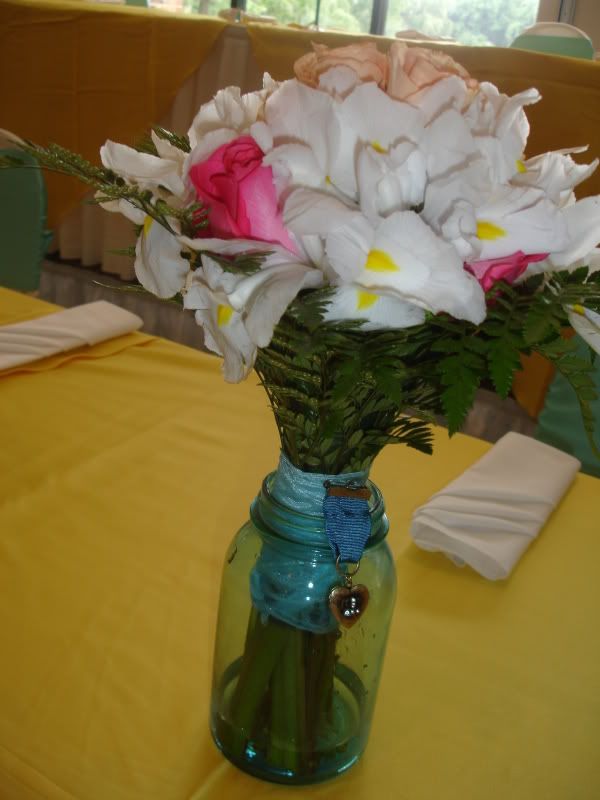 Popcorn Boxes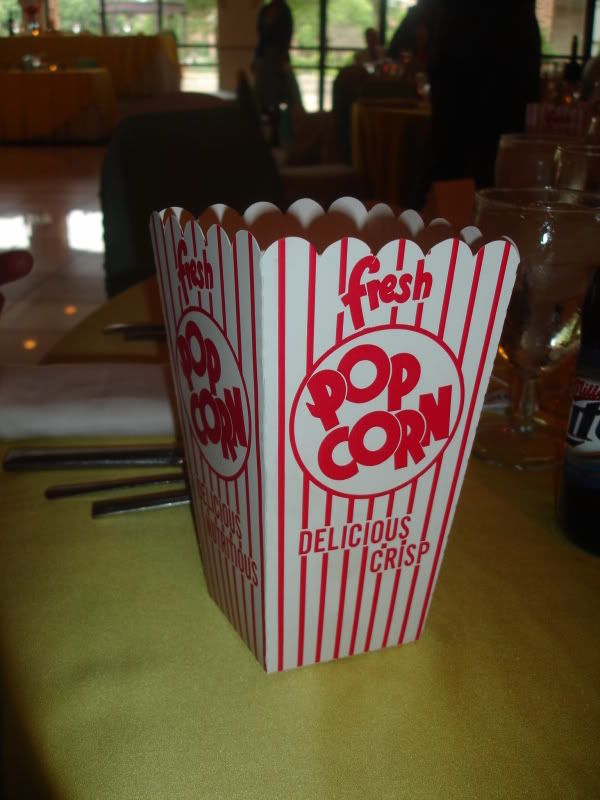 You can find a case of 100 boxes for $15-30!  It was perfect for our guests to scoop out popcorn out of our popcorn machine.
My Veil
I didn't want to spend a fortune on my veil... It's very "bridal" and well.. You are only a bride for one day.
I did fall in love with one at David's Bridal when I tried my dress on but they wanted $150 for it!
So, the hunt was on..
I bought my veil from cutebride for $25.
I STILL love it!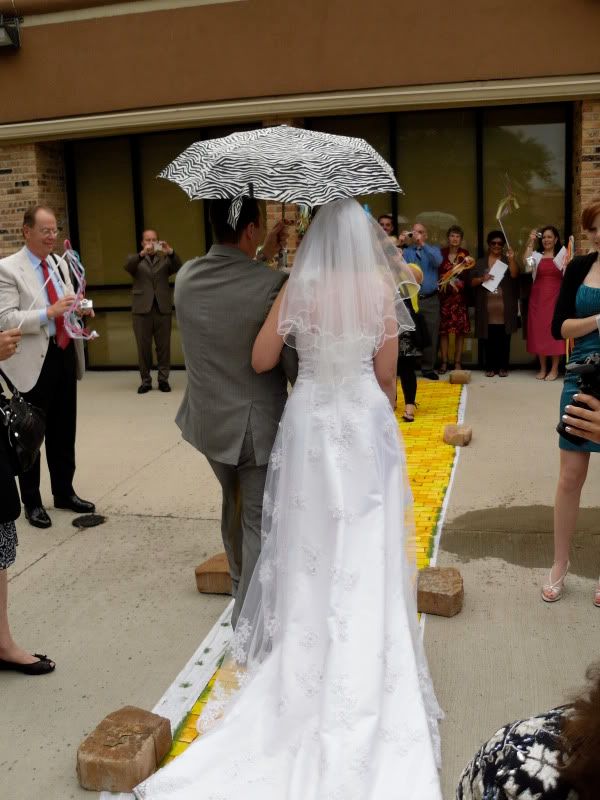 Wheat Grass for our Centerpieces
We bought a five pound box for $30!  When two ounceswas $5 at JoAnn's!
Clearance Items
This pearl strand was actually a necklace from Target:
Love the bouquet charms for your bridesmaids but can't find any?  Look at KEY CHAINS.  I found these for a $1 a piece :)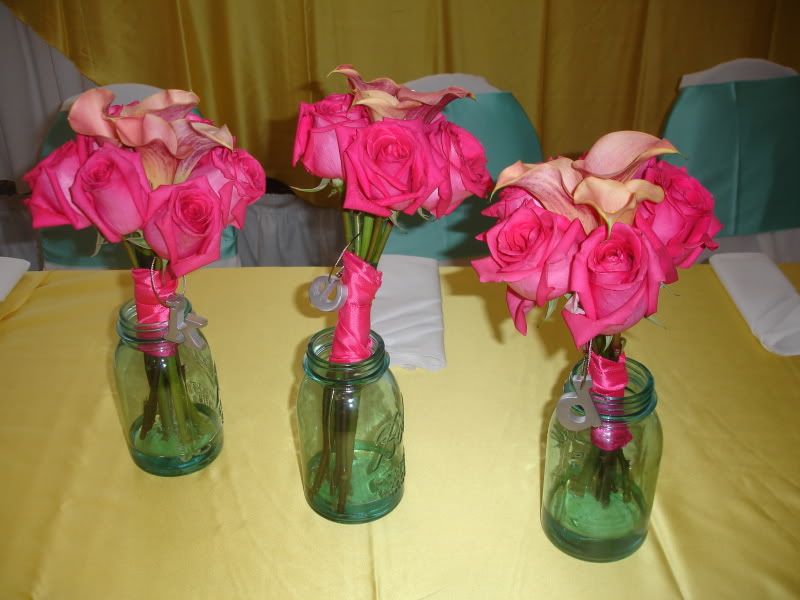 Our Toasting Flutes
These were from Home Goods, costing us $6 for the pair!
What's a better fit than toasting flutes that match our colors and say "Happily Ever After"?
Our Invitations
Found at JoAnn's for $7 a box...  Our invitations cost barely anything! 
You'll never know what you'll find at any of these stores... So always keep your eyes open and on the look out! :)
---
Candy Buffets on a Budget
If you love the idea of a candy buffet but are afraid you can't afford it, think again!
When buying your jars, check out Home Goods, Target, TJ Maxx, and Marshalls.  If you are on even a tighter budget, check thrift stores and garage sales.
We bought our jars from Home Goods and Target; buying 8 jars for $60 total.
*Note:  One is a straw holder and another is a trash can... THINK OUTSIDE THE BOX.
BUY YOUR CANDY IN BULK at your local candy stores OR Sam's Club.  Most of our candy was at Sam's, but for some of the old fashion candy, we ran to an actual candy store.  We were able to buy all of it in bulk.
Quick Tip:  Don't focus on your wedding colors... This tends to be more expensive and more of a pain.
Quick Tip #2:  For M&M's, try to buy the holiday ones on clearance... We bought the Easter collection for our wedding.
---
DIY.. The biggest way to cut back
We did a lot of tasks ourselves, which saved us a lot of money.


Invitations


Table Names


Labels for Candy Buffet


Candy Bag Labels


Escort Cards


Card Box


Pomanders


Wedding Wands


Menus


Paper Poppies


The list just goes on!


---
Ask for Favors
Have an idea but can't put it on paper?
ASK YOUR FRIENDS/FAMILY!
My talented friend painted our aisle runner and did ALL of our flowers (bouquets, bouts, corsages, centerpieces):
My MOH/Sister designed my programs...  And I made the paper poppies that sit on top:
---
Flowers
By going to a florist, they tend to charge you by the length of the stem...  So the longer the stem, the more money a flower will be.
Check wholesales such as Sam's Club, Costco or Jewel.
We ordered all of our flowers through Jewel and it was a total of $400 for:


Bridal Bouquet


Bridal Toss Away Bouquet


Three Bridesmaids Bouquets


Nine Bouts


Five Corsages


119 Roses for Centerpieces


---
I'm sure there's a lot I'm missing, but this will give you a great start to plan the wedding of your dreams on a budget! 
Remember - Use your resources and think outside the box!  Not everything needs to be followed from a bridal magazine.  There's so much more out there than following the standards when it comes to planning a big wedding!
Weddings cost a fortune.. So much that some people even get wedding insurance.. And not everyone could afford one.  Use these cost cuts and you should be able to succeed!