Inspiration: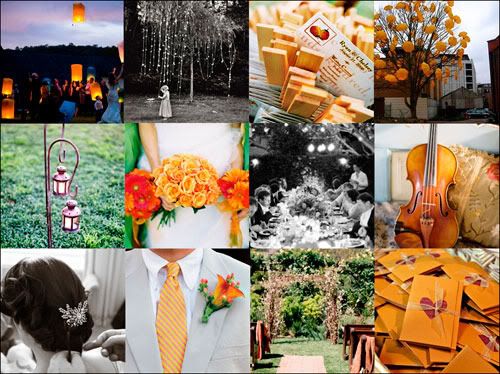 For this budget-friendly wedding, while I kept in mind the places I could save, and the places I could splurge, I never lost sight of the whole premise of the wedding day!  I wanted to keep it romantic, charming, soft, simple, and picturesque.  Although I made sure to get all of the essentials, I added a few details here and there to make everything come together - right down to the color of the ribbon on the mini buri fans!
My ideal dream wedding takes place in a backyard garden, set in the spring, adorned in reds and oranges, hosting roughly 80 guests.  I tried to keep this as simple as possible, but never cut corners when it came down to showing off the little things in my wedding that would make it special to me, my husband-to-be, and our guests (like the penny-wishing-cards, or the caramel candy apples!)
I imagine my first song being Sam Cooke's You Send Me. This is the song I played as I designed this wedding. :)
Location:
To save on a high-priced ceremony and reception location fee, I've looked into using the backyard of friends or close-relatives.  Eighty people is not a whole lot of guests, but it can be in a cramped space... so finding a location, preferably a large backyard garden would be ideal.
Altogether, I wanted to stay under $1,500.  See how well I did!
CONTENTS
+ Attire & Beauty Accessories
+ Ceremony
+ Reception
+ Extras
+ Miscellaneous
1_Attire & Beauty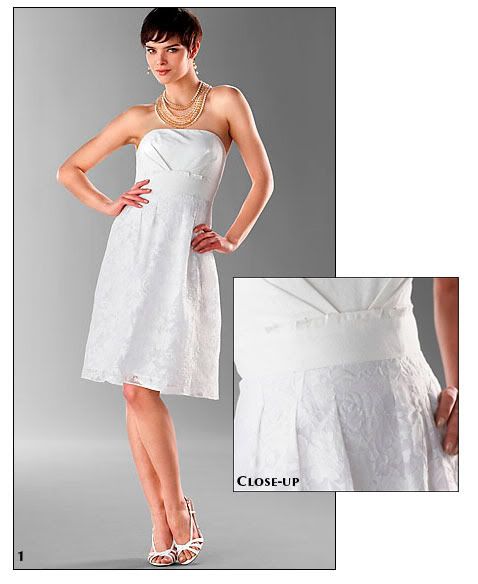 1. Dress
Strapless Floral Dress, $168.00, White House | Black Market
This dress is a beautiful knee-length design, pleated in the middle, and has a lovely floral pattern on the lower skirt half.  I chose this length over a longer one because I think it'll wear better and more comfortably outside!
2. Shoes
Caparros Elope Satin Two Piece Pump, $54.95, DSW
These satin shoes are simple and classy - the ring ornament over the toes adds a touch of sparkle.  DSW also offers free shipping! Yay!
3. Veil
Bird cage veil, $37.00, Birdcage Veils
Besides having a beautiful net for the front, this vintage-style veil has a decorative feather/flower arrangement to compliment any hairdo.
4. Jewelry
Goldtone Glass-Pearl Necklace, $54.40, White House | Black Market
Because the dress is strapless, I thought having a nice gold chained pearl necklace would add a very elegant touch and wouldn't leave my neck so bare looking!
 5. Groom tux
Hopefully my groom would own his own tux and would want to use it again!  $0 on his attire!  Yay!
2_Ceremony
5. Hanging firefly jars
Glass jars, approximately $5.50/each Decorative Country Living
Tea light candles, $3.99 for pack of 50, Walgreens
I envision my ceremony and reception to be outside in a backyard garden area, and since we'll be hanging out through the night and until the wee hours of the morning, I'd like to set a very cozy atmosphere for me and my guests.  These hanging candle holders that mimic old-fashioned firefly jars definitely add to the nighttime ambience.
 6. Paper lantern strings
Paper Lanterns String Lights, $9.99, Bon-Ton
Again, I love setting the mood with lights and I think these colorful paper lantern strings add a whimsy and vintage feel to my outdoor backyard wedding.
7. Guestbook notes
4.25 x 5.5 cards (4 per 1 regular sized sheet of paper) & some pennies!
I found this idea from another wedding that had their ceremony/reception outside in a garden.  These cards say "make a wish, write a wish" where guests can leave a little note or drawing inside for the couple.  Beside them there is a small dish of pennies where the guests can then make their wishes for the happy couple and toss them into the nearby pond.  I think this is a great (very cheap!) and interactive way to bond with the guests!
3_Reception
8. Centerpieces
Square glass vases, $8.99 each, eFavormart.com
For my centerpieces, I wanted to keep it simple.  Small square glass jars or little terra cotta pots would suffice.  I definitely recommend sticking to flowers that are IN SEASON not only because you can save on having out-of-season flowers shipped, but because local florists can sometimes give you deals with in-season arrangements.  My centerpieces would include orange springtime flowers like hydrangeas, heathers, and anemones.  I budgeted about $12 each centerpiece.
9. Napkin ties
I found this napkin ring and loved it!  Made of synthetic straw material, tied with simple orange ribbon and has a monogram seal pressed onto a square paper.
I have seen hay packets at Michael's where you can also purchase ribbon.
You can purchase a wax seal kit cheaply on eBay, like this one: Wax Seal Kit, $13.99, eBay
I imagine I would spend about $2.00 on each ring.
10. Dessert
I am fonder of cupcakes to a big wedding cake!  And cupcakes are easier to order since you know just how many to get.  Prices will vary but if I were to do cupcakes, I love this local bakery from Berkeley, California called Love At First Bite.  I budgeted about 220.00 for dessert!
4_Extras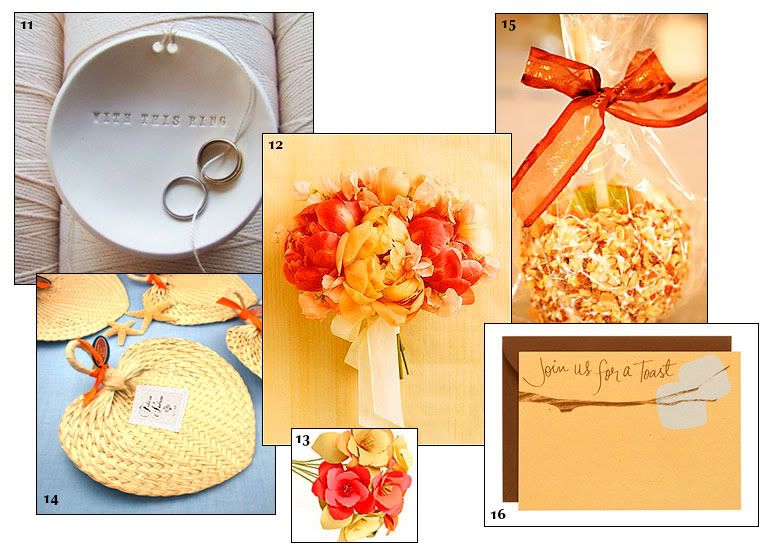 11. Ring bearer bowl
$30.00, Etsy
These are just darling and are a different twist on the regular pillow to hold the rings.  It can also be used as a Christmas ornament for years to come afterwards to remind you of your special day!
12. Bouquet
I had envisioned a bouquet of beautiful springtime flowers: peonies and sweet pea (my favorite) and as luck would have it, I found this photo of a peony and sweet pea wedding bouquet online!  This is exactly what I was thinking... simple, colorful, and has a simple white bow to tie it all together.  I budgeted about $20 for a bouquet.
13. Boutonnieres/bridesmaids bouquets
Paper Flower Kit, $14.00 makes 12 flowers, Paper-Source
These are paper flowers from Paper-Source... I was thinking to use 4 of the flowers for the groom and best man (2 flowers each to make their boutonnieres) and use the last 8 to make a small bouquet for my maid of honor.  Less than $15 to cover flowers for the bridal party!
14. Programs/favors
Mini buri fan, $0.95 each, DestinationWeddingFavors.com     
I am in love with these mini buri fans which can be used to cool down in the warm spring day but also double as a way to showcase the program (which I can DIY and print on my own).  And the guests can take them home as favors and use them for the summer!
15. Edible favors
Caramel-dipped apple favor, $26.00 for pack of 24, DaffyApple
I would personally find a local orchard to save on shipping, but if you can't find one near you, Daffy Apple has great deals on them.  If I have 80 guests, I'd need three packs of 24 and then a half pack of 12, which totals about $91.00.
16. Invitations
Toast Paper Bag, $11.50 for pack of 10, Paper-Source
These DIY invitations come with 10 cards and 10 envelopes.  You can print out what you'd like on each of them and even directions on the backside to save paper!  And to save money on postage, you can recommend guests to call you or go online and RSVP!  For 80 guests, I would need 8 packs, totaling $92.00 for invites!
5_Miscellaenous
Music
I have a friend who plays the violin and asked if she might be able to play at the ceremony.  I'm thinking Pachelbel's Canon in D... I'm a hopeless romantic.
And for the reception, I'm planning on hooking my iPod/laptop up to some speakers to play favorite songs all through the night!
$0 on music!
Photographs
I have two options:
For the very frugal bride:
Since a lot of my friends have cameras, I also decided to leave cards on the table and include in the program that they can
upload all of their photos to an online album so we can all check out the photos from the day!
For the I-Can-Splurge-Some-More Bride:
I love photos, so if I had extra money to spend, I'd put it into the photographer. I have a lot of close friends who do it professionally, so I'd budget around $500-800 (hoping they'd give me a deal!)  But most times, it's upwards of $1000+! 
EXPENSES: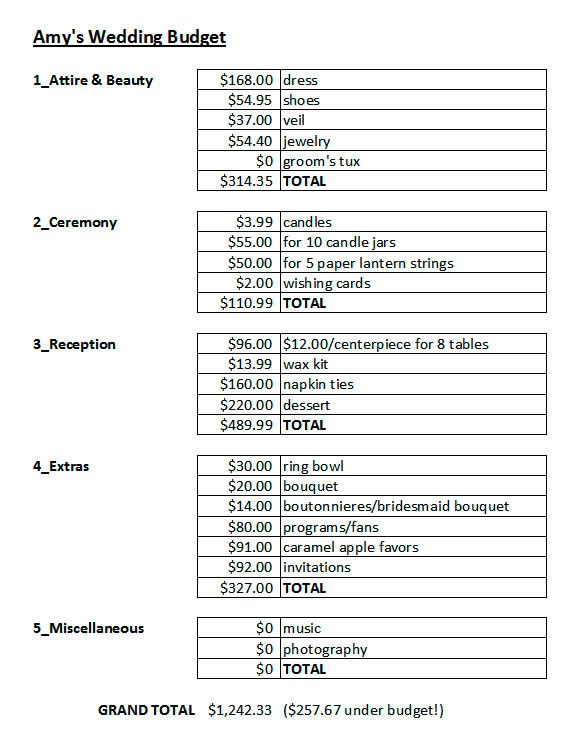 I tried to stretch the $1,242 as far as I could go while including the essentials and a few fun extras.  Hope you all enjoyed!  :-D