Here are directions on creating a centerpiece that's simple and informative. It's really ideal for a reception or banquet where an elaborate centerpiece isn't possible. We had a 10-course family-style dinner so there was no room for a fancy centerpiece.
Using two sheets of 8.5" x 11" carstock, score according to the dimensions shown. I use the back end of a butter knife as a scoring tool along with a metal ruler.
Using scissors or an X-acto knife and a straight edge, cut the feet of the lantern.
Glue the two sides together using double-stick tape. (I'm a fan of 3M's ATG 924)
Print your information on 4" x 7" pieces of paper or cardstock and attach them to eace side of the lantern. It can also be layered with a contrasting decorative paper.
These measurements can also be adapted to make a 3-sided triangle centerpiece.
Ideas for information:
table numbers
list of guests seated at that table
menu
info about disposible cameras
info on where to upload digital photos
trivia questions
info about cultural traditions
info about the bride and groom
photo of the bride and groom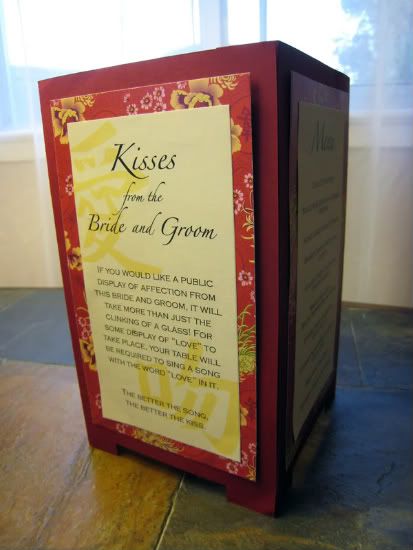 Good luck!
For a variation of this, using translucent paper for the menus and a light inside, you can see this link.