Hello and thank you for reading my Budget Savvy Bride article!  I'm excited to share my tips with you!  Our wedding was on August 28, 2010 and most of the article was written prior to the wedding, but I added a few updates!
I am totally in love with planning our wedding.  I'm also totally in love with Dan :)  What I'm not in love with is the expense of a wedding.  Wow...if I didn't think outside of the box I could have easily run us into a lot of debt!   I'm a social worker and Dan is an electrician and we recently relocated to Seattle and used most of our savings to do so.  That left us with a small budget and a 275 person guest list (we ended having 220 attend the wedding).  For us, having our families and friends there is our #1 priority, which means we really had to get creative.
Dan's ONE request was that we get married on one of the Great Lakes in Michigan.  I contacted several wedding coordinators who, when I told them our budget, told me it wasn't possible to have our wedding on one of the lakes.  Oh, no she didn't!!  This made me even more determined.  
Are Your Ceremony and Reception Sites Attached At the Hip?
After scouring the shorelines for venus that were large enough to accommodate us and that we could afford, I realized that having our ceremony and reception at same place would help us save big time.  
1. NO transportation costs between the events - No limos, shuttles, etc.
2. Having them at the same place gives you some leverage for negotiation of price.  
3. No precious photo time is wasted on transportation time...especially if you have an hourly photography package.
4. Bonus - Guests seem to really like not having to drive to another location between the ceremony and reception!
These things alone can save quite a chunk of change!
Here is an arial photo of our venue:
The ceremony is on the beach and the reception will be just behind it in a big white tent!
3 Very Important Letters: DIY
Do-It-Yourself is crucial!  You can add many creative and unique elements to your wedding without having to go over budget when you DIY.
1. DIY can be very economical
2. You can spend bonding time with friends and family who want to help out
3. Your creative juices will flow!
You can google DIY anything and you will come up with a tutorial!
I DIY'ed our favors for about $1.20 each.  This includes a white favor box, fuchsia skinny ribbon, a DIY thank you tag, a DIY magnet, and breast cancer awareness candies.  Here are the magnets (tutorial here):
You can even DIY your bridal jewelry at a fraction of the cost of store bought jewelry!  I found an inspiration photo and my stepmom helped me recreate it with my own touches:
If you don't have the resources to make your own, there is always Etsy!! (see Etsy entry below)
I also DIY'ed the boutonnieres for the groomsmen with fake flowers!  I went toMichael's to get my supplies and to make 14 of them I only spent $24!
Boutonnieres in action:
I saved a bundle on making my own thank you cards!  It's so easy.  To make my version, all you need are some blank cards, a rubber stamp, ink, glue, and rhinestones (Michaels)!
I also made tutu's for our flower girls for a few bucks each (tutorial):
Here are our flower girls in action!
Making your own escort cards can be fun and budget friendly!  I borrowed a di-cut machine from my co-worker after I saw the high price of pre-cut butterflies online.  I added rhinestones and ribbon (10 yards for $0.50) from Michaels.  I will hang these from manzanita branches (the best deal I found was through Save On Crafts):
Finished result:
We made our "arbor" that we had our ceremony under.  My uncle found bamboo poles for $3 each at a craft store and I found the organza on sale at Joann Fabrics.  Here is the result!
I also handmade the thank you favor tags and my friend whipped up some ribbon wand for us.  I have the template for the thank you tags if you are interested. For the ribbon wands, we got dowels really cheap from Michael's and used sale ribbon.
I wanted to somehow include photos of my dad and some of our other family members who have passed away.  I finally decided to put framed photos by the escort trees and a lot of people commented how much it meant to be able to look at them and remember them on our special day.  I got the frames from a dollar store. 
Getting your make-up done at a salon can cost big bucks!  I realized that it would cost almost the same amount to buy myself a whole new set of make-up as it would to have my make-up done by someone on the day of my wedding. 
I RESEARCHED and watched tutorials and in the process have learned make-up application techniques that I will have with me forever!!  I'm 33 years old and I finally know how to put on make-up properly.  Here are some of my favorite online tutorials:
Make Up For Small Eyes (I have small eyes)
Buy It, Use It, Sell it
1. It's an economical choice.
2. It's an environmentally friendly choice.
3. You can give other brides awesome deals!
My dreams of getting chair covers were almost shattered... Then I discovered that LinenTableCloth.com was having a ginormous sale on chair covers.  I realized that I could buy them for cheaper than renting AND I can re-sell them to make some of my money back!  In fact one of our fellow PW ladies, lasanchce, is buying some of ours after our wedding!  
We all need so many of the same things for our wedding, which makes it very easy to sell your stuff and give another bride a great deal.  Everything from table number frames to hair flowers, to centerpieces... All you have to do is post them in the PW classified + deals forum and other brides can also benefit from your awesome finds, while you make back some of the cash you spent!
Use Project Wedding for Budget Friendly Ideas
1. You will find creative and amazing budget friendly ideas
2. Brides on PW are SO helpful 
3. You will have thousands of brides with experience at your fingertips 
Browse PW, browse PW, browse PW...I can't stress this budget saving tip enough!  The more you browse through PW, the more creative ideas you will find.  There are some extremely resourceful brides who are more than willing to share their budget saving tips!  
Need ideas for cheap centerpieces?  Post it on the forums!  Stuck on how to have gorgeous bouquets that are affordable?  PW ladies ALWAYS pull through with awesome ideas!
For example, I learned about $1 double-sided frames from Ikea for our table numbers/menu cards, super cheap save-the-dates from VistaPrint (250 for $30), and manzanita branches for our escort cards, all from fellow PW ladies!
The front of our save-the-date postcards from VistaPrint:
Table numbers/menu cards (Ikea resource listed above):
Bridesmaid Dress = Bridal Gown (for real)
I WISH I had known about using bridesmaid dresses as wedding dresses from the start!! Before this discovery I had fallen in love with a dress that was WAY out of my budget and I decided to have a similar one custom made. Unfortunately, the seamstress didn't construct it properly and I lost my entire dress budget. However, after spotting this amazing bridesmaid dress, my final wedding gown had a price tag of $183 (not including alterations)!  You would be very surprised how many extravagant bridesmaid dresses come in ivory and white.  Here is my dress from Impression Bridal.  I found the "bling" trim at Haberman's Fabric in Royal Oak, MI and my stepmom sewed it on for me.  
I wanted some bling on my dress, so I went to my local fabric store and bought some gorgeous trim to put on the seam at the thigh area of the dress.  Here is the trim I found:
I used the leftover trim to wrap my bouquet:
You can also try:
Remember, don't forget that you can always add bling!!
Think Outside of the Real Flower
Flowers are so pricey these days!  As much as I LOVE real flowers, we could only afford to have them for our bouquets. So, that left me really confused about what to do for centerpieces and boutonnieres! Then I came across the idea of paper flowers.  I hired my crafty friend and she made it happen! Her website is here.
I am using my grandpa's old mason jars (scouring thrift stores for stuff like this is another budget tip) as vases.  These photos don't show the final product, just a taste :)
Finished product:
There are also other awesome budget ideas out there that don't have to be super pricey flowers!  Just keep browsing PW and you'll find lots of things :)  In fact, a PW hostess, Kaytana17, posted a forum topic titled Inspiration - Alternative Centerpieces!
Cut Those Coupons
I saved a ton of money by using coupons to Michael's and Joann Fabrics.  Sign up on the


ir email lists to receive 40% and 50% off coupons!
Check out RetailMeNot.com


.  It's basically a database dedicated to all the coupons that are out there!
Also, if you google for coupon codes (ex: coupon code for Victoria's Secret) you should be able to find any that might be out there.
Think Twice About a Buffet
1. Buffets can be way cheaper than plated dinners
2. Guests can pick and choose what they want to fill their bellies with!
I personally love buffets at a wedding because I can take as much as I want of the things I like most!  We managed to negotiate an extremely affordable price that includes baked herb chicken, stuffed prime rib, tofu lasagna, california medley veggies, whipped potatoes, bread, and salad.  We would have spent WAY more with a plated dinner.
Who are the talented people in your life?
Do you have a cousin who is a great photographer?  A friend who is super crafty? An aunt who loves to coordinate?
1. Utilizing family and friends can really shave some dollars from your budget (without taking advantage of anyone, of course).
2. Consider working out a trade deal if there is a service you can provide to someone else
3. It's so much more personal to have friends and family involved!
4. Making an offer to hire an acquaintance for something can really pay off!  The worst they can do is say no.  Here's an example:
I noticed that my friend's husband posts awesome videos on Facebook.  So, I sent him a message telling him I could offer him $250 to be our videographer and edit a video for us...he accepted!!
My uncle works at a print shop and he printed the invitations that we designed as our wedding gift:
My other uncle makes wedding cakes as a side job and he is making ours as his gift to us, as well!  He is also our officiant :)
Here is what my uncles made us for our cake!
My amazing uncle:
Accessories Do Not Have To Cost A Fortune
1. Bargain Shop
2. Borrow from friends and family
3. Check thrift stores
Shopping for accessories is a great time to bargain hunt!  Don't rule out stores like Claire's or Forever 21 just because they aren't fancy-pants stores.  
I found my hair flowers at Claire's for $3.99 each!
Beg, Borrow, and Steal...Well, Maybe Just the Borrow Part
1. It's economically smart to borrow
2. It's environmentally friendly to borrow
3. Incorporating things from loved ones into the wedding can make it even more meaningful!
Some things I borrowed to save money:
* My friend Blaine is letting me borrow the white paper lanterns that he used at his wedding and I bought $0.50 spools of ribbon to hang them. Here's how they turned out:
* Family members offered up their white Christmas lights
* My friend Julie is lending me her rhinestone bobby pins  
* My co-worker lent me her di-cut machine to make my butterfly escort cards
* To make my thank you cards, I borrowed a rubber stamp from my friend Kelly 
Do Your Bridal Party a Favor!
I wanted the girls to feel comfortable and beautiful in their dress and have it be something they can afford, so I told them to choose whatever dress they wanted!  The only stipulations were that it had to be in the fuchsia/magenta/raspberry color family and they should be able to wear a necklace with it. The girls chose dresses from Nordstrom, BCBG, David's Bridal, and Alfred Angelo ranging from $40 to $400.  
We save the guys a ton of money by having them rent only their pants, shirt, and tie from the Men's Wearhouse.  We decided to forgo the jackets since our wedding is on a beach and hey were given flip flops as part of their groomsmen gift.  They only had to spend $25!
Here is how it turned out:
Make "Etsy" Part of Your Daily Vocabulary 
1. Etsy for gifts
2. Etsy for garters
3. Etsy for clutches
4. Etsy for jewelry 
...and on and on and on...
I bought adorable clutches for my bridesmaids and matron of honor based on their own personal style.  I just typed in some search criteria (ex: purple under $15) and up popped hundreds of options!  Here are some that I purchased for my girls (cost ranging from $3.50 to $20):
You could browse the wedding section for hours and find some awesome deals on incredible hand made items. 
Can't find what you are looking for?  You can request ANYTHING to be custom made in the Alchemy section!  
You Can Do It!
Don't let anyone tell you that it can't be done... I am living proof that it can!  Stay focused on your goal and research, research, research!  You can have the wedding of your dreams without going into massive debt.  I'm tempted to call back the coordinators who doubted our budget and give them some tips on how to help brides obtain their goals hehe :)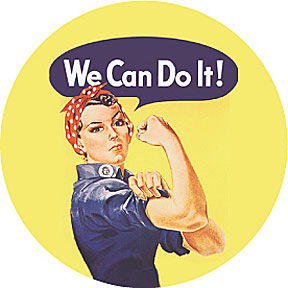 Thank You!
Thank you for reading my article about budget savvy wedding tips.  I truly hope that it has helped at least one bride to have the wedding they want without breaking the bank!
Happy Planning!
xoxo
Nikki