tookuslongenough
WEDDING DATE:
Apr 28, 2008
Last updated on March 1, 2010 at 4:14 pm
|
ceremonylocation - fontana dam in north carolina
total pita to work with, but we eventually found the person that wasable to help us out!
grade so far : b (f for first attempts at help, afor service and price after I found steve.)
grade after : a-
a bit of drama day of, but everything was perfect!

officiant- pastor cory hardesty from knoxville, tennessee
he'ssuper nice and willing to work with us to create the ceremony ofour dreams.
grade so far : b (d for first attempts at help that i'm nolonger counting, a for service and c for price/travel charge.)
grade afterwards : A
Everyone loved him... and even our anti-marriage GM wants him to do his wedding!

reception location- fontana village in north carolina
notyour typical wedding venue, but we met and got engaged there... sowe're attached to it.
grade so far for room block and cabin rentals: a-(we got it done quickly, but took a while to get the contract.)
grade after : b they didnt always know what was going on... but it all worked out for the best.

caterering- fontana village in north carolina
joeythe catering manager is knowledgeable with what he does... butthey dont really do weddings.
grade so far : b (i think things are settled)
grade afterwards : c
Contract - F. The buffet table was NOT removed despite me asking 4 times and that being the plan since the beginning. It had been discussed as nauseam and really annoyed me. Other things were not done according to my contract that should have been. Food and service day of (and week of) - A+ simply fantastic. We are still getting compliments!

wedding cake -sweetcelebrations in maryville, tennessee
mmmm their cake is soooo good! i cant wait to eat it on our wedding day!
grade so far: a
grade afterwards : b
the cake had shells on it ... my biggest pet peeve. umm hello- this is NOT a birthday cake. I brought you pictures..... but to make up for it... they gave us an extra tier.

florist- townflorist in robbinsville, north carolina
thislittle florist is right near our venue. they are not online anddon't have email, but if you can get down there they're great.
grade sofar : c- (because some of her prices are ridiculous and because its aPITA to down there.)
grade after : F.
most of the CP were wilted and my bouquet was a disaster. The roses were BROWN and too small... not to mention all the stephanotis were broken and brown as well. I had to pay extra for them.. and then pick them out before I walked down the aisle. plus, I attempted to work with them on a bunch of things and it was always a PITA. i finally gave up... which sucked.

photography- erin browne photography in knoxville, tennessee
ourfavorite tenessee vendor so far. she worked with us to make a packagethat fits our needs... and is charging us practically nothing fortravel costs. she knows her stuff, and we can't wait to work with her!
grade so far : a+ (after e-pics and bridals)
grade afterwards : a
the only thing they missed was the guys getting ready. everything was amazing and WAY beyond my expecations.

videographer- light and life media from knoxville, tennessee
we met with scott, and he is really nice and easy to get along with.(he's also a mac person, a plus in my book!)
grade so far : a(reasonable price and travel fees..but we need to find our own mikes.)
grade before : a- (kinda hard to reach at times)
grade after : I got the video really quickly... but havent watched it yet.

disc jockey - all the right grooves from charlotte, north carolina
theywere able to step in after we fired dj #1... we are very excited tohave them!
grade so far- a+
grade afterwards : a+
they were fantastic day of! bethany also let me sit in her car to hide before- something that was way above and beyond what they needed to do! :)

invitations andpaper- gourmet invitations in macomb, michigan
my favorite vendor in general. she's more like a friend than avendor...plus her prices are great!
grade so far : too high to recieve a letter.
grade afterwards: I'm sad I had to break up with her. Grade so high letters can not express it!!!!

rental company -all occasions party rentals in knoxville, tennessee
when we first started working together, they made me want to tear myhair out. we've really reduced our rentals, and now they're fanastic towork with!
grade so far: b (f for past service/prices, a++++++ for current servicelevel)
grade post wedding: A.
they skipped the rental fees and allowed us to have everything for a week. it made everything MUCH easier! I highly recommend them now.

tori's jeweler -tiffany and company in troy, michigan
tiffany's has been my jeweler for years, and i love them. highly recommended.
grade : a+

chad's ring - titanfactory in las vegas, nevada
very patient while he tried on everything twice. we love the ring andtheprice!
grade: a+

chad's suit - saks fifth avenue in troy, michigan
webought chad's suit there, and they were great.
grade : a

chad's shirts -cicchini's in birmingham, michigan
good prices and a great shirt... but took a long time.
grade : b

my dress - david'sbridal in madison heights, michigan
yes, i went to the walmart of bridal gowns. i went to other places, butfound "the dress" there.
grade: b (the gal was really nice, but neverremembered my name despite me going in every day for a week.)

bridesmaid dresses- jcrew online
i love this store... and we got our dresses there for a steal! only$80!
grade : b (great price and quality... but all the zippers suck.)

hair stylist -emily martian from wilmington, north carolina
she started cutting my hair when she lived in arizona... and she's theonly one i trust. she's coming all the way from wilmington... i'mexcited!
post wedding review: everything was fantastic!!!!

makeup artist -rachel simmons
moh and best friend of the bride... i'm biased, but i adore her!
post wedding review: everything was fantastic!!!!

weddingcoordination -a delightful day out of nashville, tennessee
pre wedding : mary alice and amber will be coordinating my wedding... and we can'twait!! mary alice has been so sweet- she makes me feel so comfortable! (a)
post wedding : D.
a lot went wrong... to the point that it ruined part of my day. I'm still stuck on all the stupid details... I put a TON into them, and to see things not done and or botched killed it for me. Very nice and very helpful.... but not what I expected.

garters, dresspatch, bouquet ribbon - the gartermaker
i ordered my garters, bouquet sash and dress patch from christy (theoriginal owner.)
grade: a+ for customer service and quality. (i cried when isaw myfirst set...and she remade them without a charge to me so i gotsomething i loved!!!)

ring orb - scarlettalley
i was soooo obsessed with having one of these ring orbs. when i got it,iwas kinda disappointed with the quality- there are a bunch of goldspots on a bronze piece.
grade: b
Last updated on March 1, 2010 at 2:45 pm
|
decor: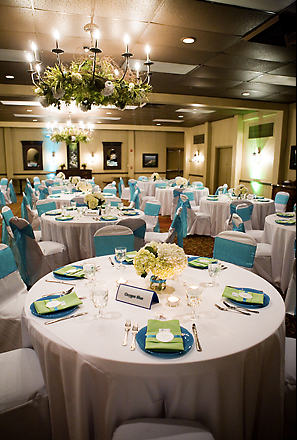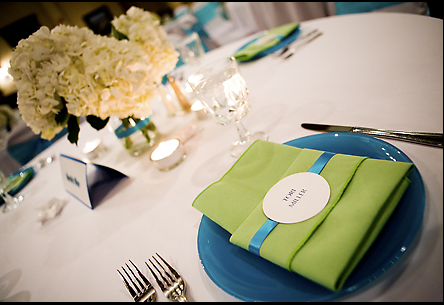 room shots and table closeup - we went circle crazy with the round placecards :)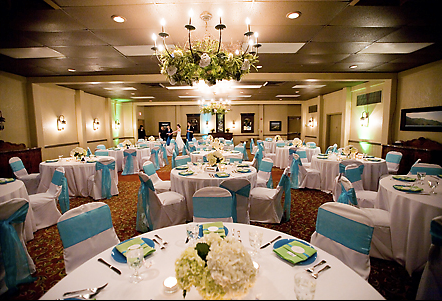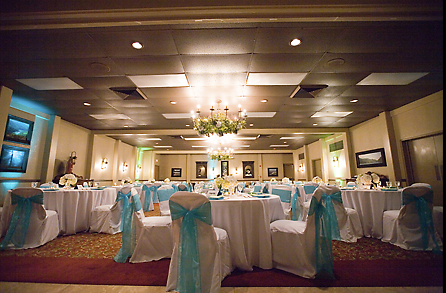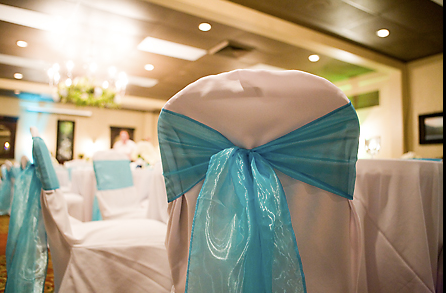 the chair sashes were tied wrong, but still pretty :)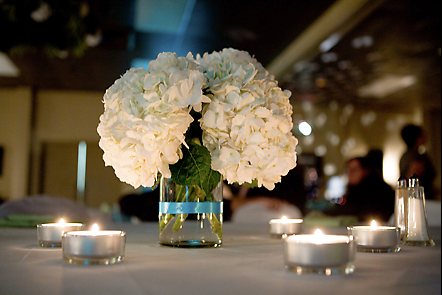 hydrangeas are flammable. by the end of the night, all the CP were burned from the candles :(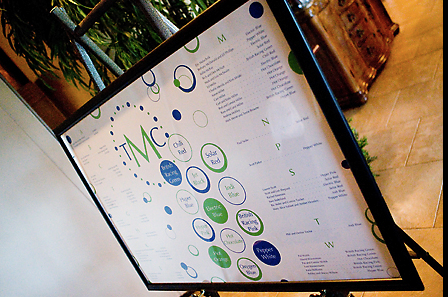 I loved our seating chart!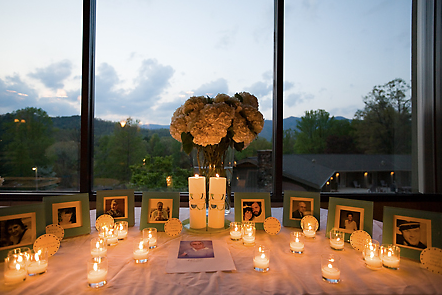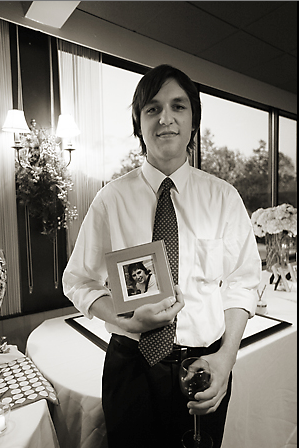 our memorial table and Eric the GM with his friend Sarah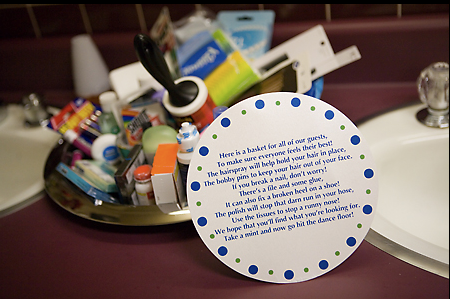 the ladies bathroom basket! they were demolished by the end of the night and MUCH appreciated by the guests! (the closest store was 90 minutes away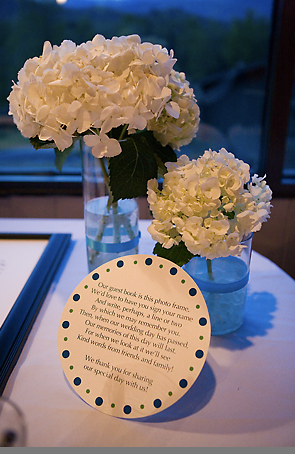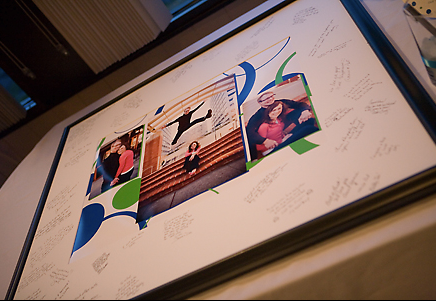 the photo frame (that was supposed to house a group portrait afterwards.)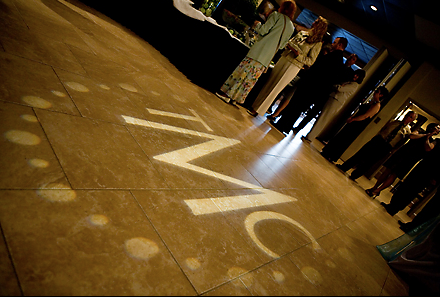 gobo! <3
buffet decor: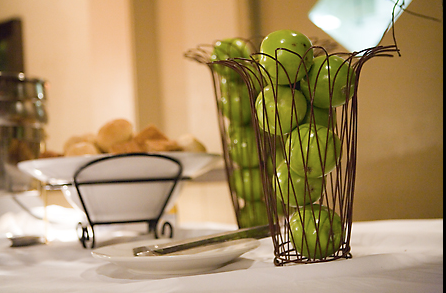 the apples that cost me a FORTUNE. $75 for green apples on the table. ugh. yay hidden costs!
food signs!
candy table!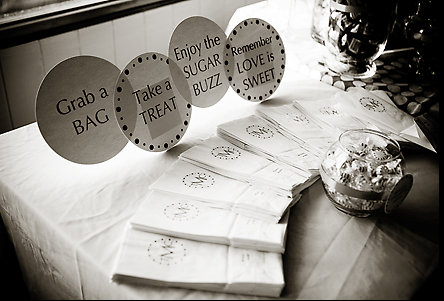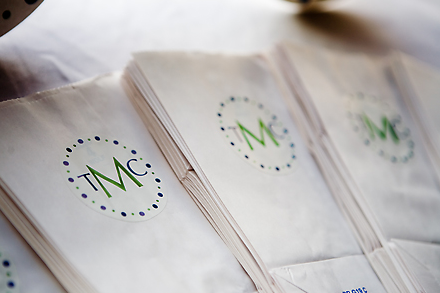 the big sign and cheap bags from papermart with free stickers :D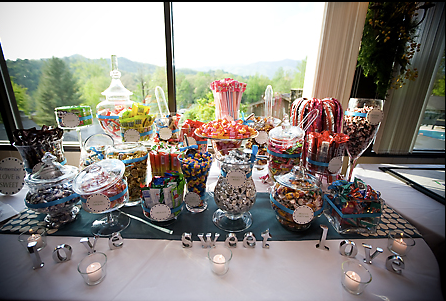 my pride and joy.
cake!
(I HATED the shells. I specifically requested a 3 tier without them. I got a 4 tier with. Oh well.)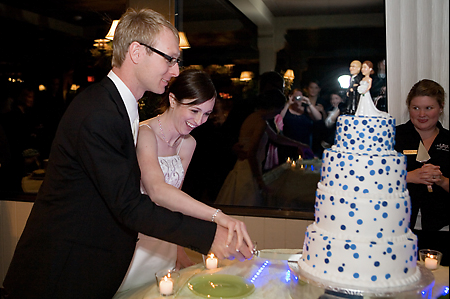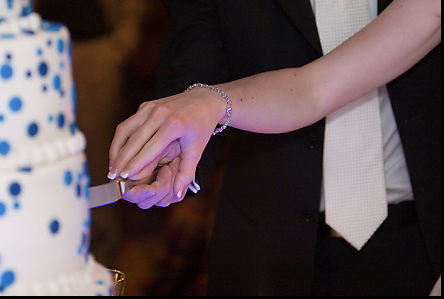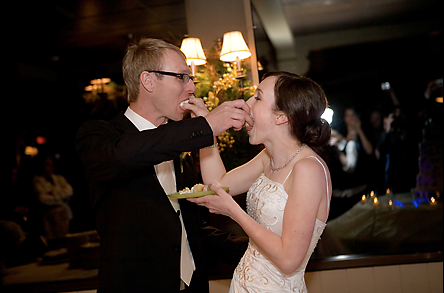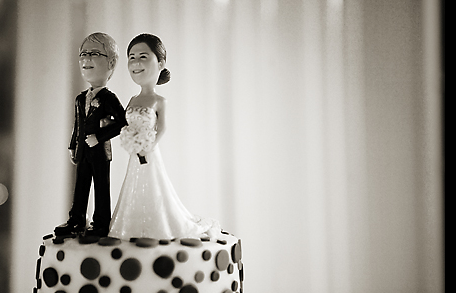 the stupid cake topper I spent hours dealing with and cost a fortune... DH loved it, and thats all that mattered!
cocktail hour: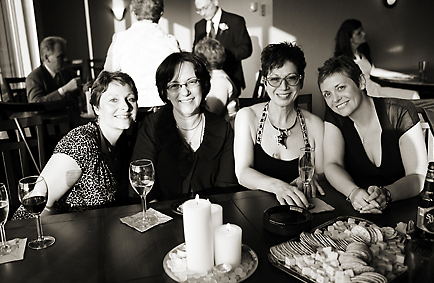 while our guests relaxed..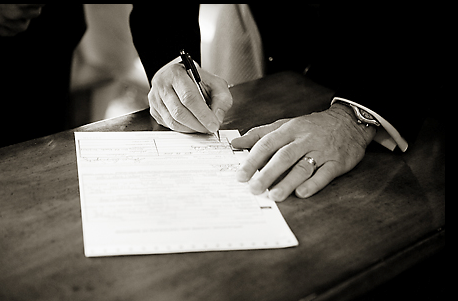 we signed paperwork and changed shoes!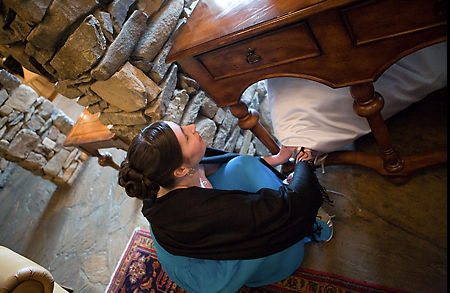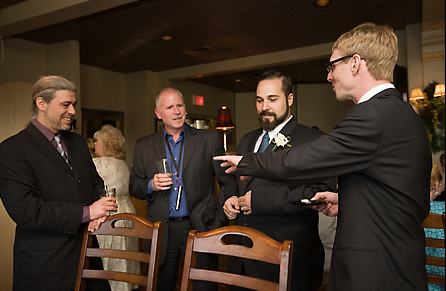 DH shows off his ring!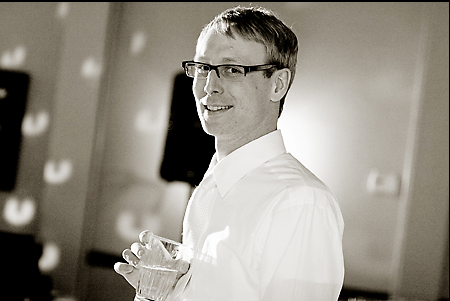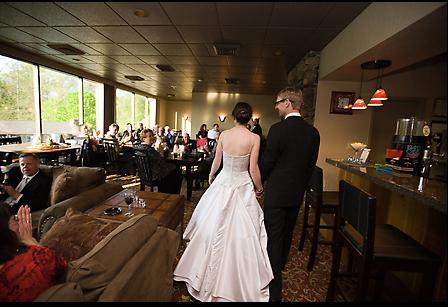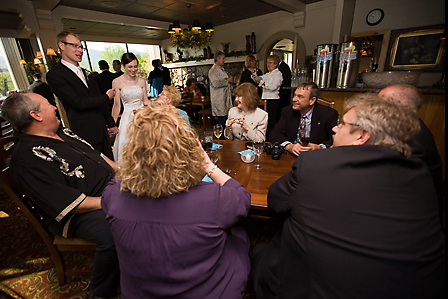 entrances+dinner:
Best Man/FIL + MIL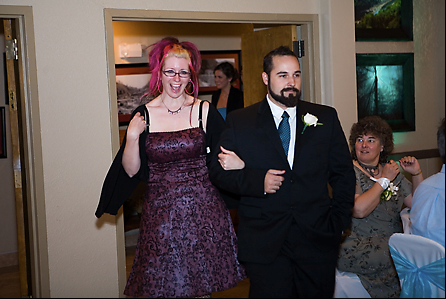 groomsman Chris and his SO Emily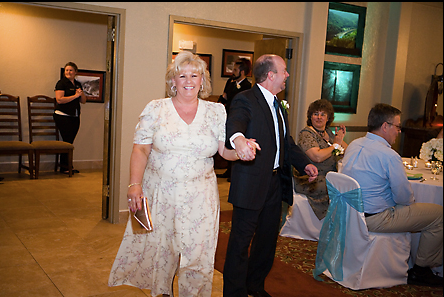 Groomsman Phil and his wife Chris
MOH Rachel, GM Eric and BM Kellie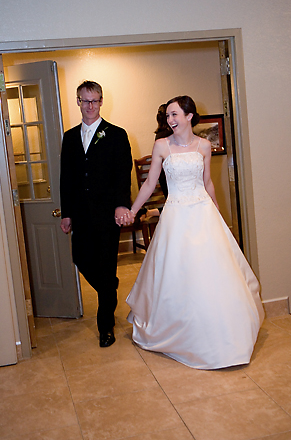 the new Mr and Mrs!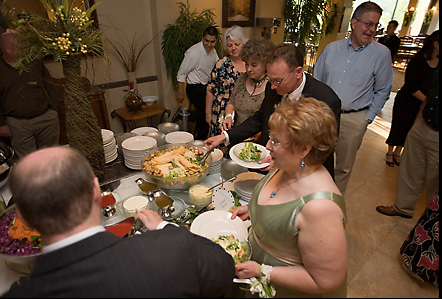 food!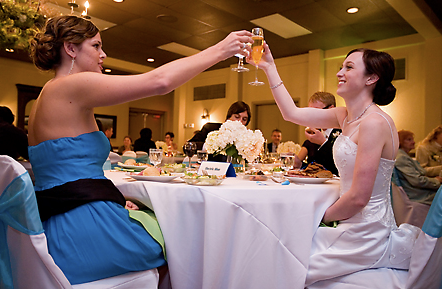 a toast to the guys that introduced me and MOH Rachel...and motivated me to drive across the country and meet DH!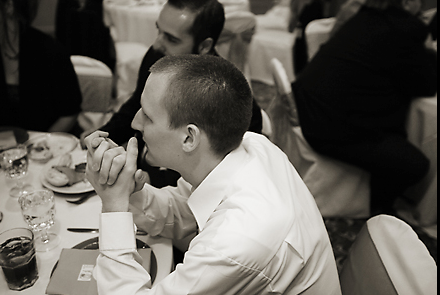 Josh, the best guest EVER. He spent 24+ hours EACH way to fly to the wedding... From Iraq to North Carolina and back!
there's a funny story behind these next few pictures... I REFUSE to kiss to clinking glasses. Well... they started clinking and I ignored them. One of our married friends took matters into her own hands!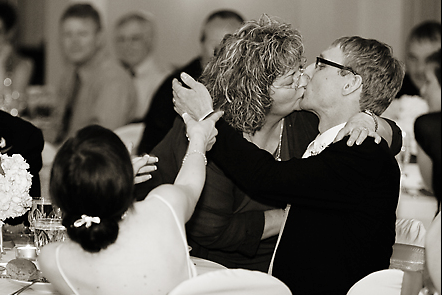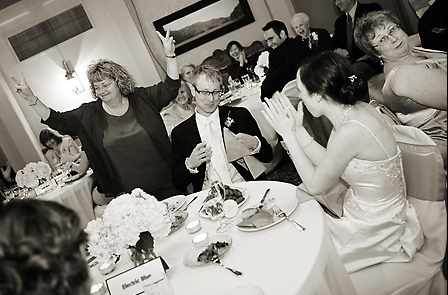 and the rest of the night!
first dance: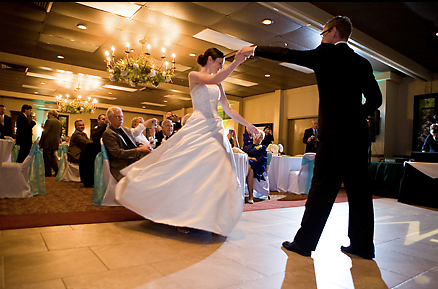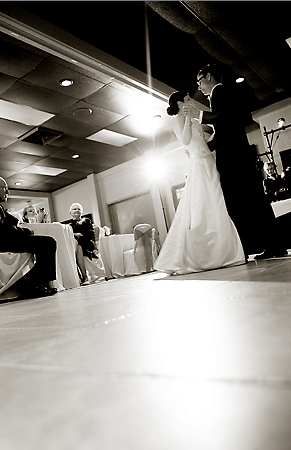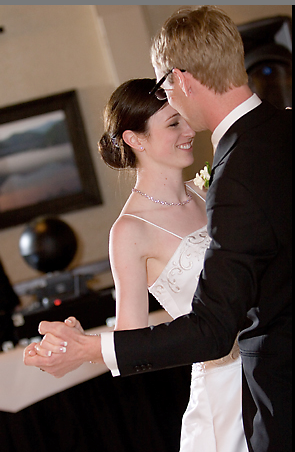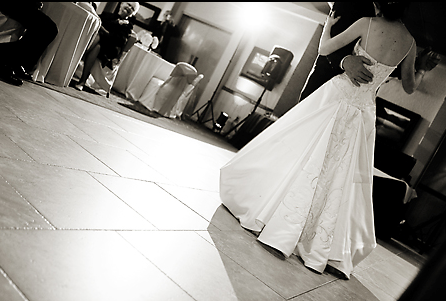 dancing with our parents: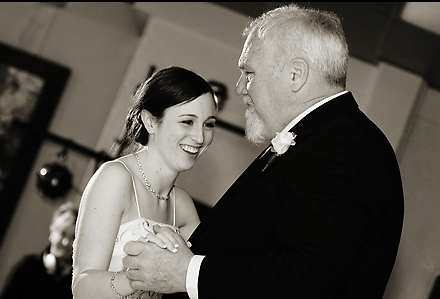 bouquet and garter tossing: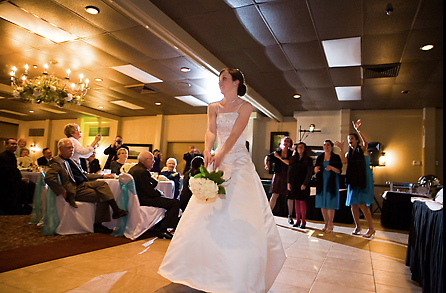 ...and I fail at throwing. oops.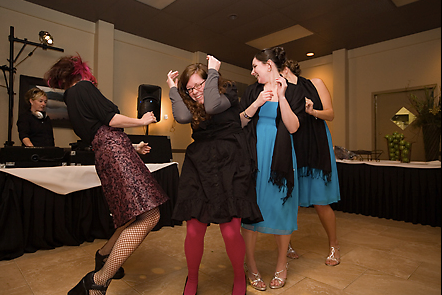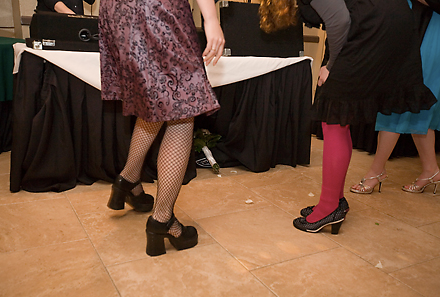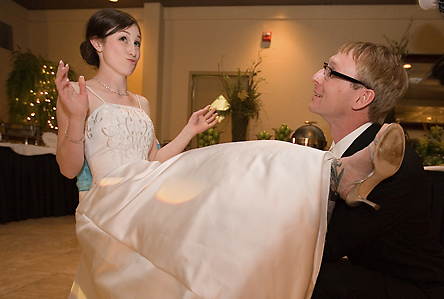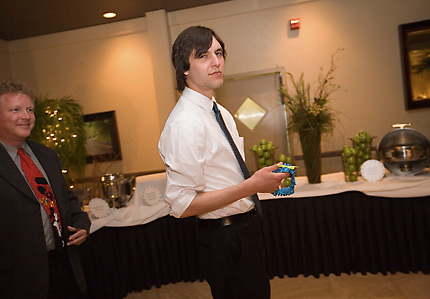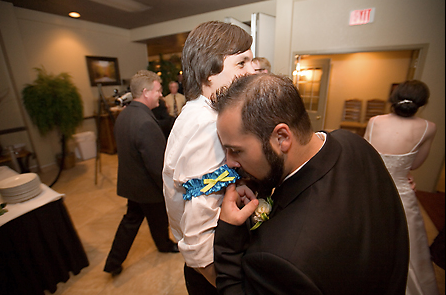 I'm so glad my photog got this shot. I'm still laughing at it years later.
...everything else :)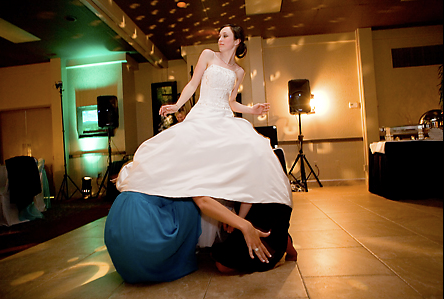 no idea why these pics were taken, but they made us laugh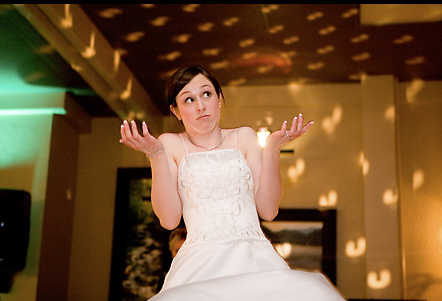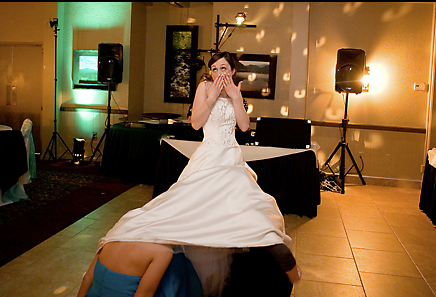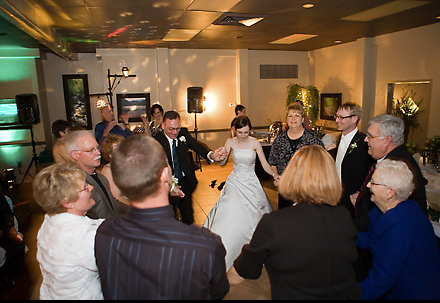 dancing with DH's family and my aunt Tamara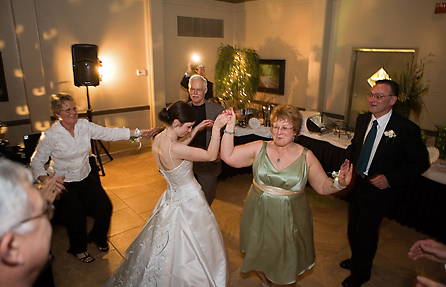 dancing with my MIL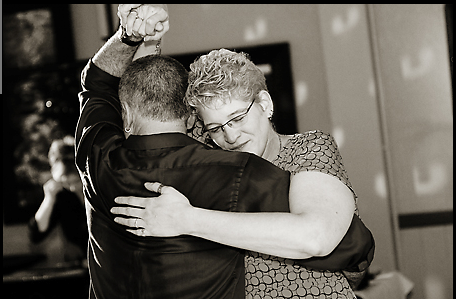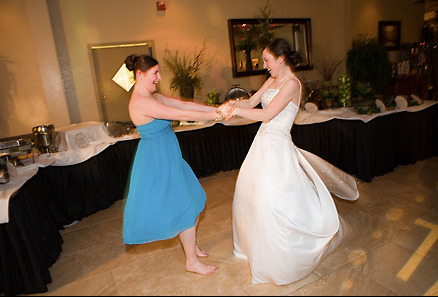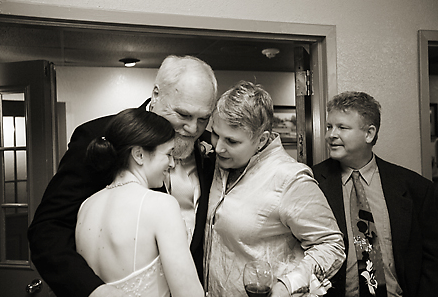 me my aunt and dad :)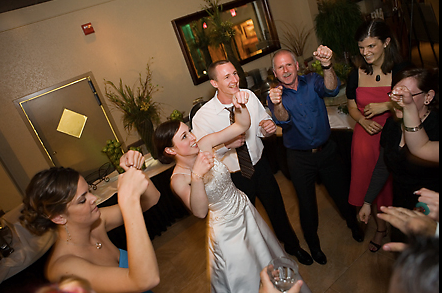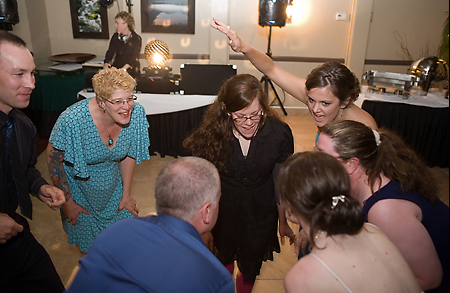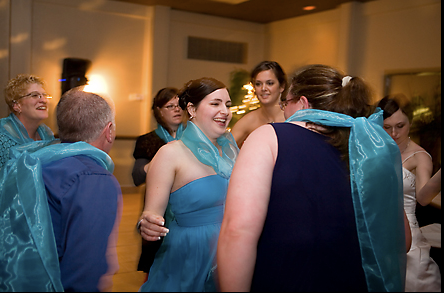 the chair covers came off the chairs at some point of the night.... LOL!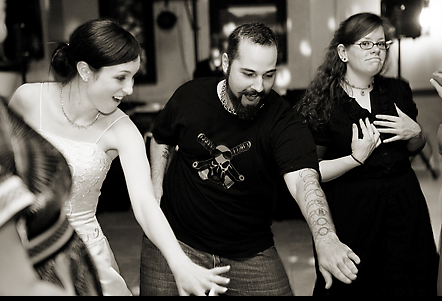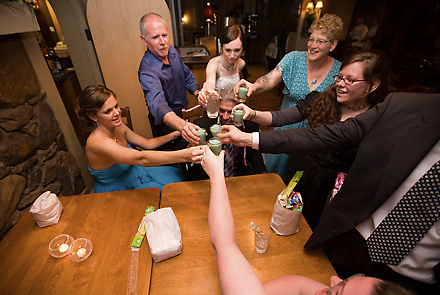 guests partaking in one of our signature shots- they were so popular that we ran out of ingredients! (and me with my water. There is not one shot of me with anything alcoholic in my hand- VERY important to my family.)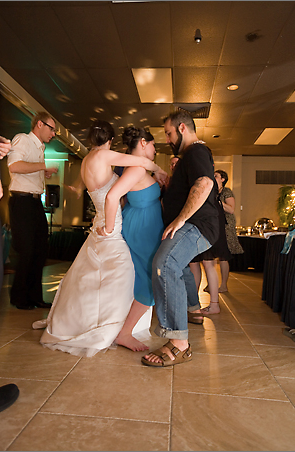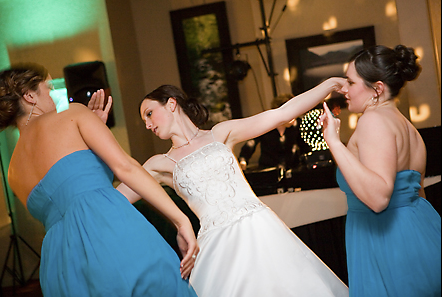 the matrix shot!
love this one of chris and dh!
we're all car people... and the BBC car show Top Gear came on during the reception and played in the bar!
the final song of the night: so long and thanks for all the fish!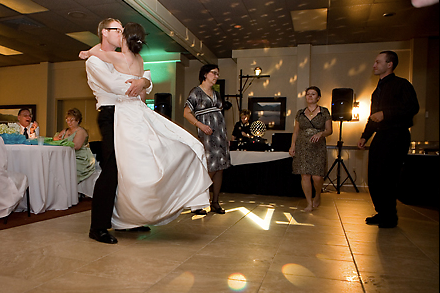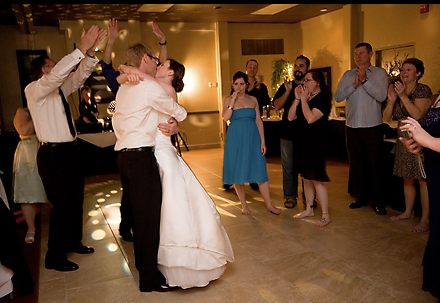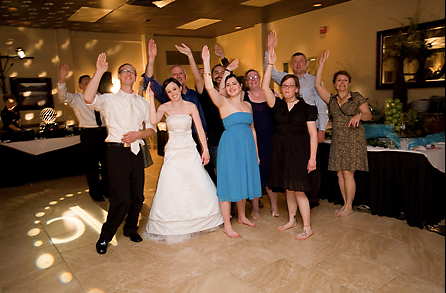 Last updated on March 1, 2010 at 2:39 pm
|
Please leave any comments or anything on my CURRENT bio - camelsintexas.... thanks! :)
For now, please enjoy the bio of me and my wasband!
tori + chad
28 april 2008

...we went off to the dragon...and we got married...




WARNING:
If you have dialup/slow internet.... Pull up this page and run to go get a McDonald's sweet tea. This bio is ALL pictures and will take a while to load. :)
This is the SUPER narrowed down version... Our amazing photogs took 1200+ edited photos....

obligatory disclaimer:
if you see a photo that is yours and you haven't received credit,please email me or page me on the what's cooking board and i'll be happy tocredit you. as far as my bio goes, steal as many images as you like-please credit me if you use it.

email is the fastest way to get a hold of me:
thefuturequeenofnebraska @ gmail.com

credit for the layout goes to the lovely mrspresley.

spacing disclaimer:
for some reason, the knot doesnt like me... and despite the fact that insert spaces in things, they dont show up. they're right in the biobuilder, but not on my bio.
about us
back to top
about tori aka thefuturequeen:
born and raised in northern california. loves her DH, macbook, mini coopers and their dog. passionate about paper, learning to cook and china.

about chad aka mr.thefuturequeen:
born and raised in michigan. loves muscle cars, the dog and his mini. has a fetish for argyle socks and crappy computers. was a total groomzilla during the wedding planning process.
details
back to top
old, new, borrowed and all the blue...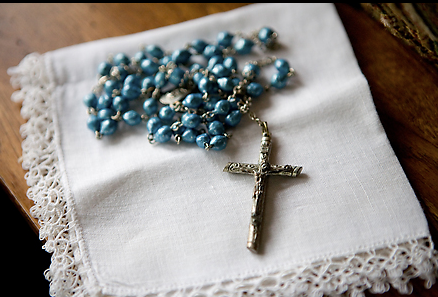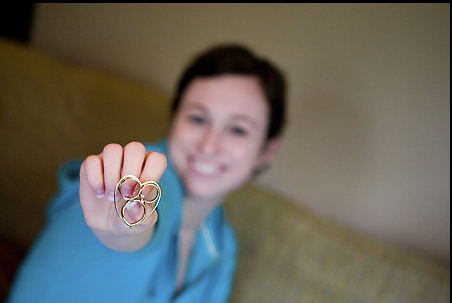 old: a hankie that was DH's baby bonnet for his christening
new: a necklace with my new initials and wedding date (pinned inside dress)
borrowed: a pin of MIL's that was made from DH's grandmother's wedding rings and her second husband's wedding band. (She was happily married twice before she passed.)
blue: a rosary made of rose petals that belonged to my mother. Each set was handmade by a group of Carmelite nuns in northern California. I used to visit them when I was young (my grandparents lived there) so it made it extra special.

the stock picture of my new... since my photog didnt get a picture


a few little knottie details....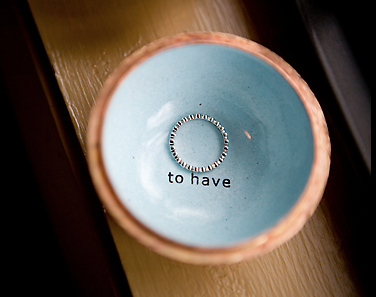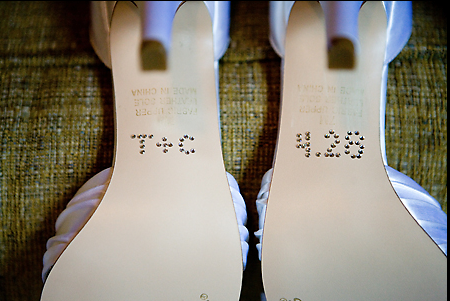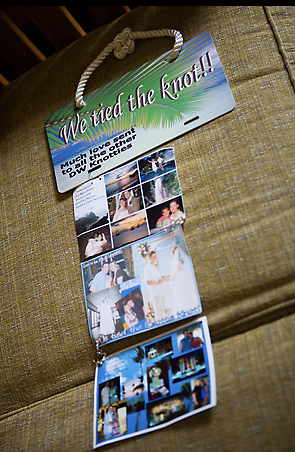 the DW knottie knot... and my bouquet ribbon
getting ready

back to top

the ladies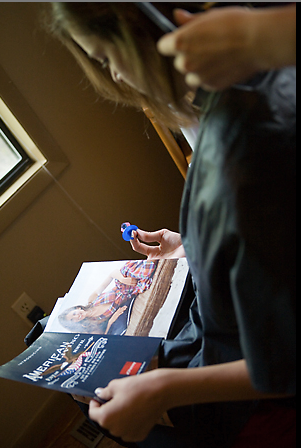 Chad has a theory that Cosmo is only for single gals... so Rach brought me one for my last morning as a single gal :)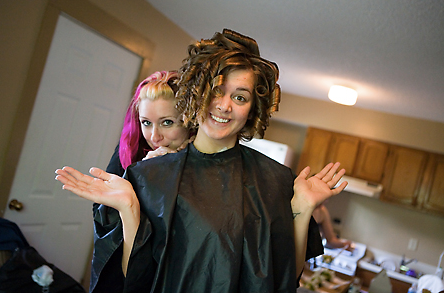 Rachel's hair in process (note MLE hiding... haha) and a great shot of the back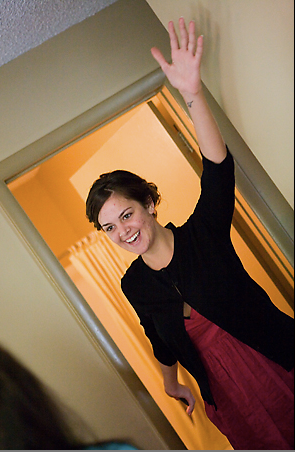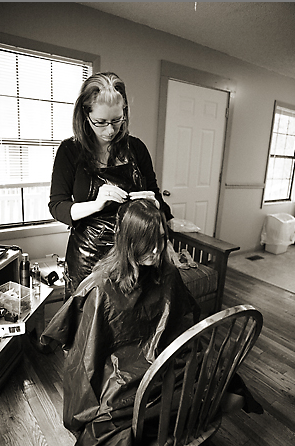 Rachel LOVES her hair... and the beginning of Kellie's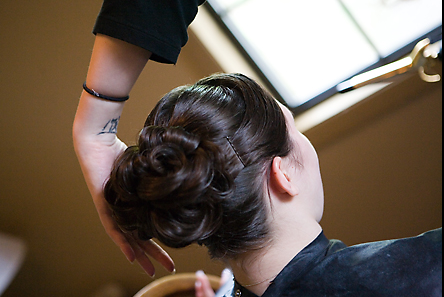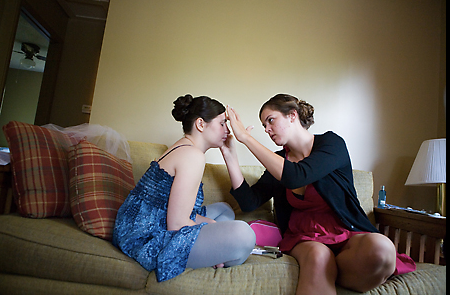 kellie's hair and rach putting on her makeup

the boys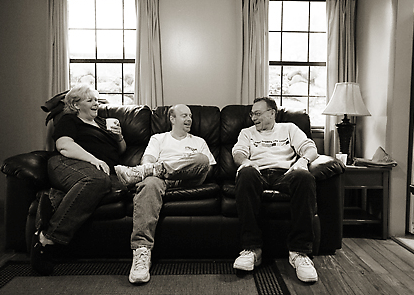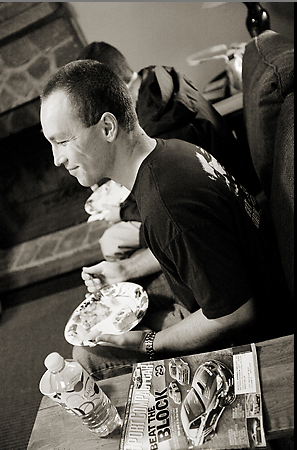 GM phil and his wife sit and chat with FIL... and BIL eats his brunch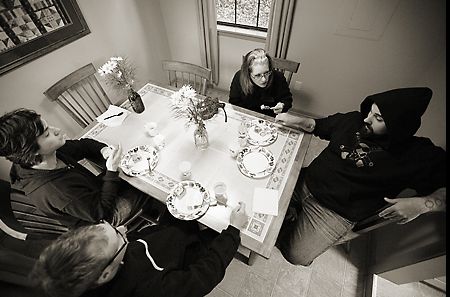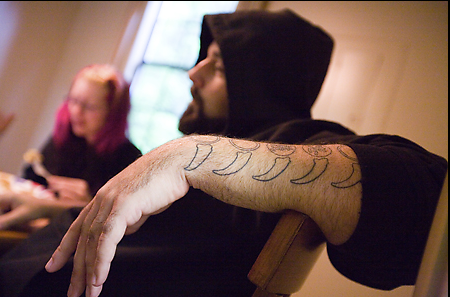 mmm brunch. and chris's arm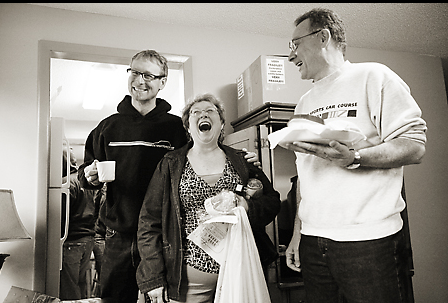 my MIL is a character, Eric talks with his hands... and my favorite:
the Miller men are all obsessed with the weather channel. Its only appropriate that FIL's turning it on.....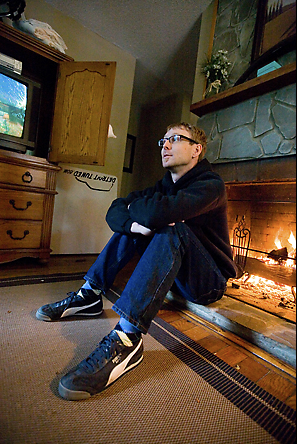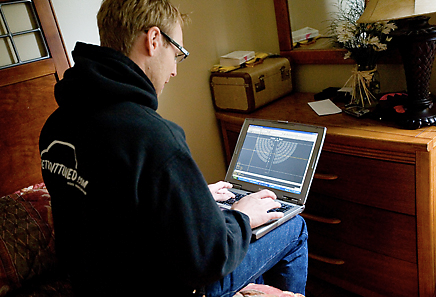 DH hanging out... and arranging chairs at the last minute.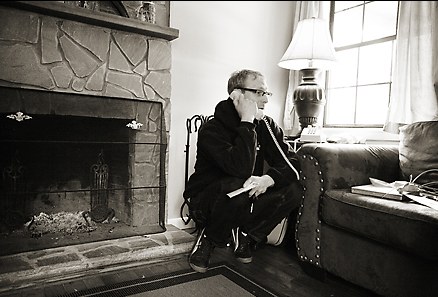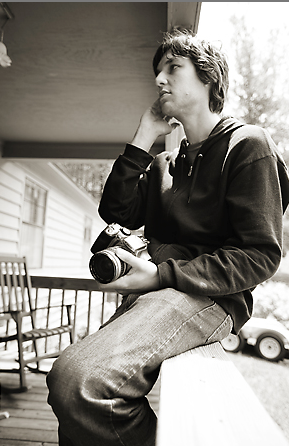 DH and GM eric waiting to go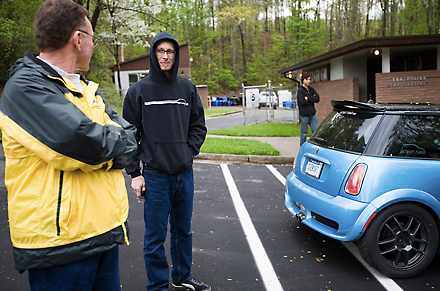 examining the site to make sure its usable... and meeting with the police!

the bride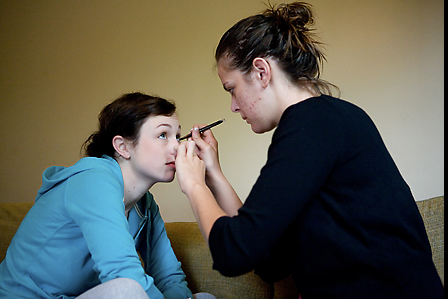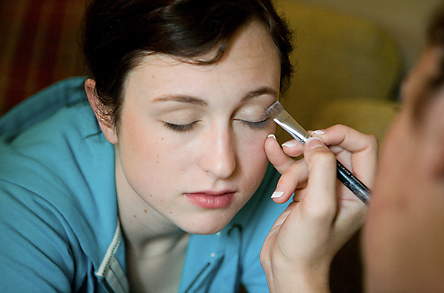 lots of makeup was harmed in the making of this wedding.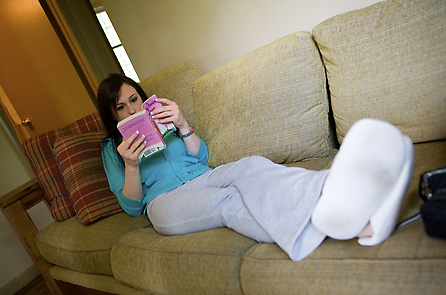 relaxing before hair... and getting my hairs did.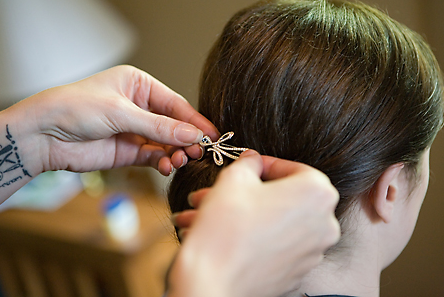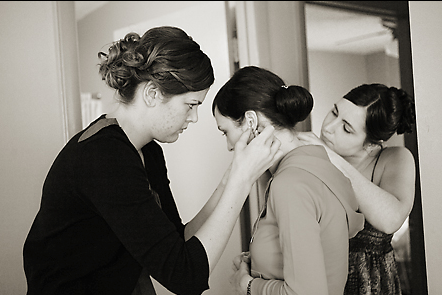 accessory time!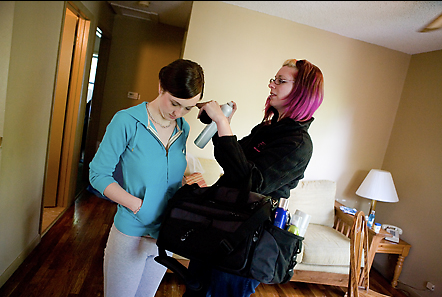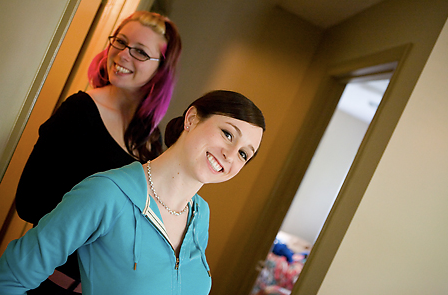 final hairspray... and MLE and I look hot! lets go!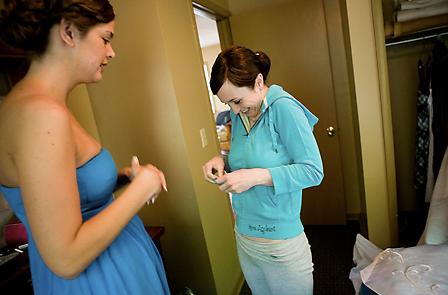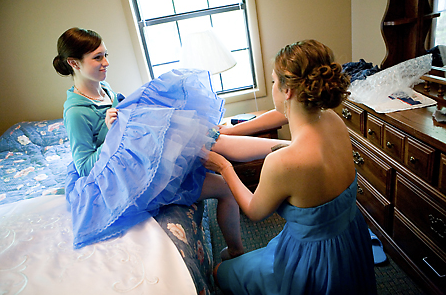 recieving my something new and having my MOH put my garter on... we're dorks.



I'm a goober.... but its time to put the dress on!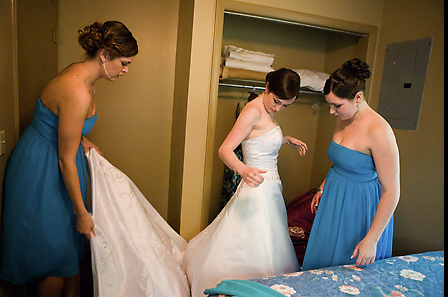 final inspection before we leave!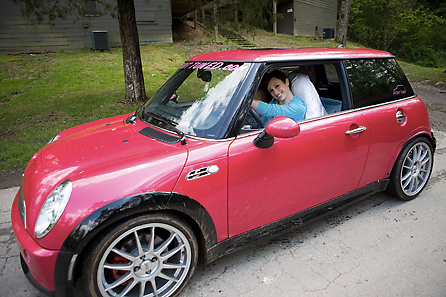 ....going to the dam and we're gonna get married...
 

ceremony
back to top
pre ceremony details...


my reserved signs (without their ribbon. I have no idea why the coordinators decided against it.)
our programs and TOJ packets (again, a problem the TOJ packets were supposed to be on the table, and there should have been rocks in the container.)
the chairs (another problem with setup... but this one was fixed in time.)
the blue mats and ceremony flowers (the blue mats were to prevent everyone from sinking into the ground. we were SO happy we did it- the ground was WET. Also, note my lovely vases. The coordinator's assistant broke one and didnt bother to tell me. umm hello. that's a flipping $40 vase.)

the bride's ride....


I know you're wondering what's going on... right? This is supposed to be a wedding ceremony!
well...... They were doing construction on the dam on the morning of and I had to have a police escort to get to the site. This lovely Explorer was my ride there!

and now... onto the ceremony!


the lovely BP... and DH walking MIL in.
(yes, he's a diva and had to walk down the aisle after everyone! men. geez.)



here comes bridezilla!



during the ceremony- the weather broke and while it was cold, it was beautiful!



handing off the rings for the ring warming



vows.... first he cried, then I did!



ring exchange. mine didnt want to go on!



(all is going well... until the line about children... WHAT???? umm no.)



best kiss ever.... and the grand exit!



yay partial BP!



everyone wants to hug us!



DH with our matchmaker + me still high post ceremony
posed pictures
back to top
my favorites...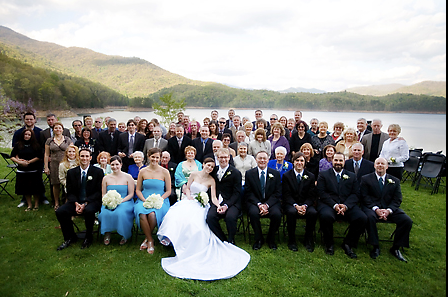 I love that we were able to do a group portrait :)

the formal....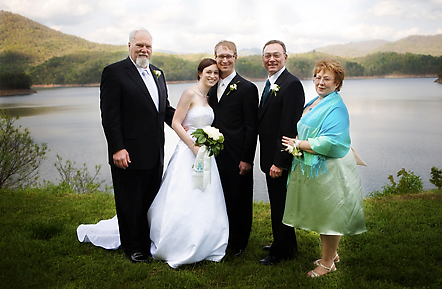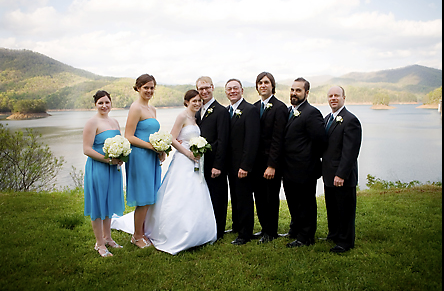 with the minister... with the parents and finally with the BP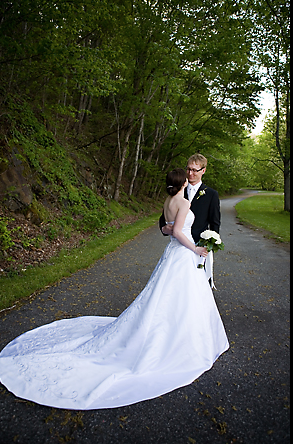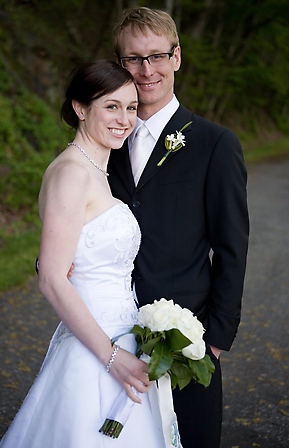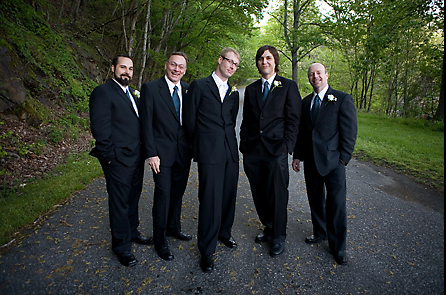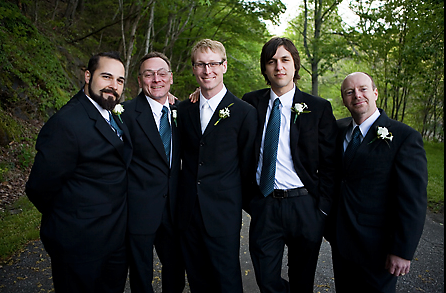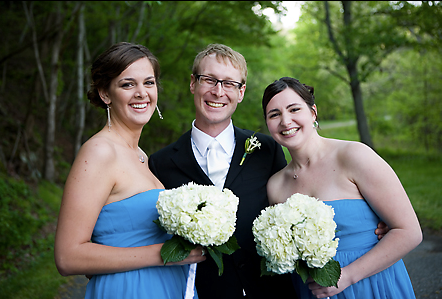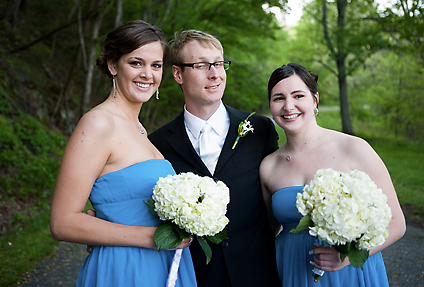 posed pics with DH... he looks TOTALLY creepy in the last one.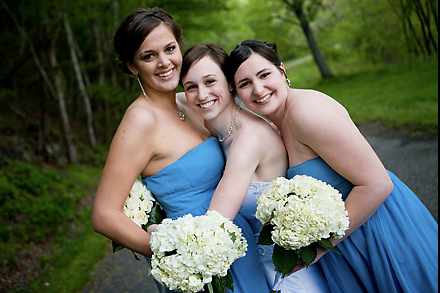 and the FUN!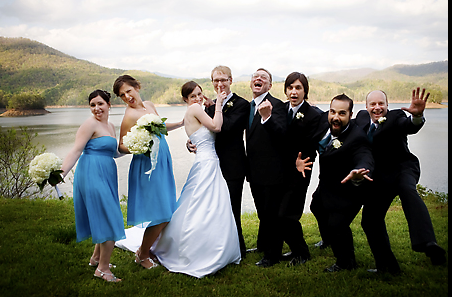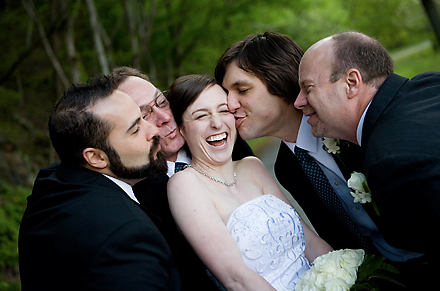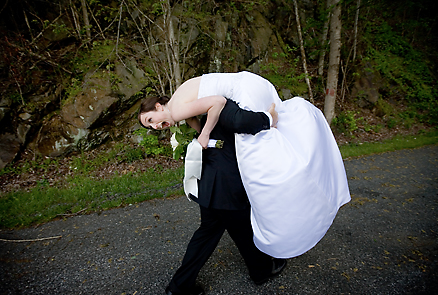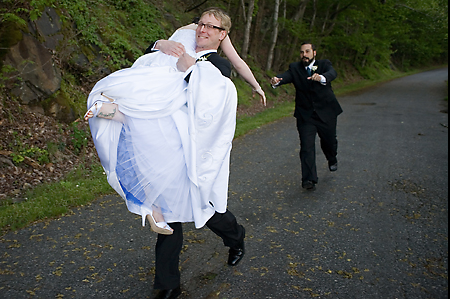 Our favorite GM picked me up and started walking away.... it took DH a few minutes to realize something was wrong.....
Took him a few... but he came and rescued me :)

Day after formals
(we took our fun formals the next day... we wanted to be able to spend as much time as possible with our guests.
we were SO glad we did this!)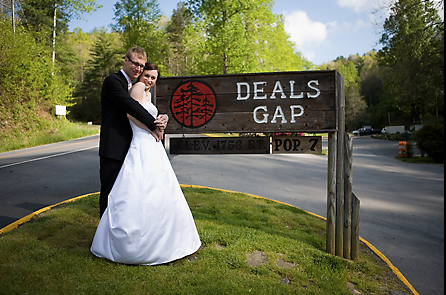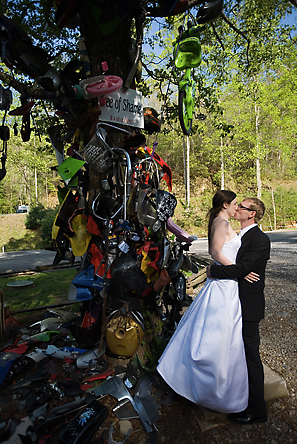 the store. its the last sign of civilation before Fontana.
and the tree of shame... its got parts from all the car and motorcycle accidents that happen down there.
I'm sad to say I've got a car part up there now.....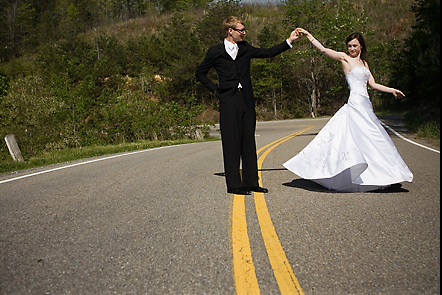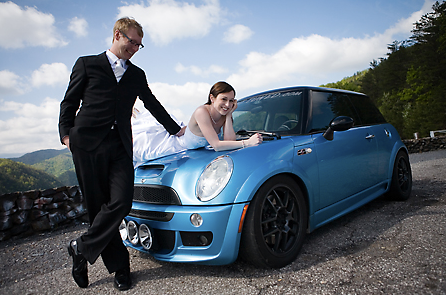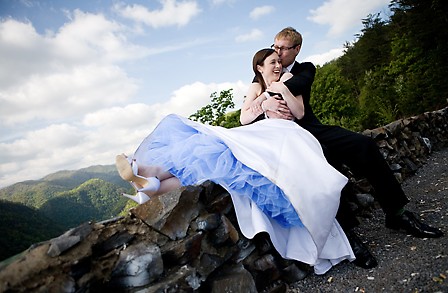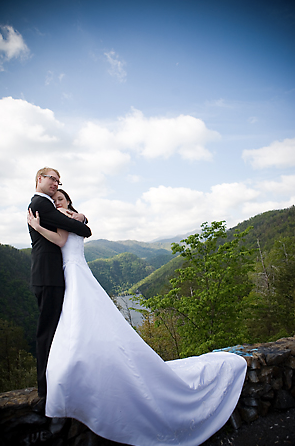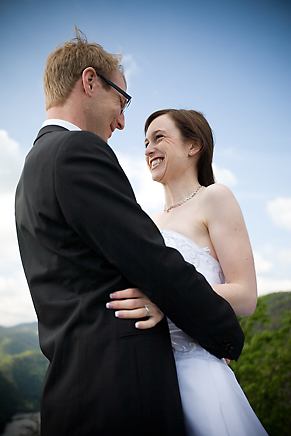 in the middle picture... im going PLEASE keep me warm! it was like 40 degrees and windy.. brrrr!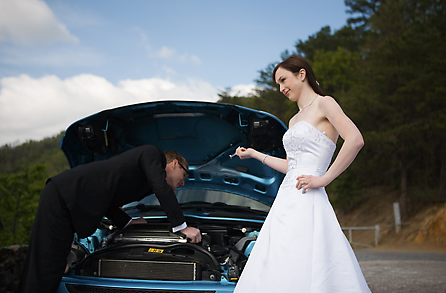 this was my must take picture...... I threatened NOT to marry DH if he was working on cars the day of... haha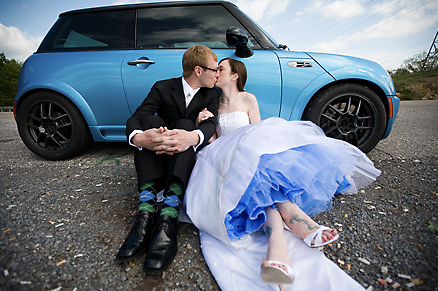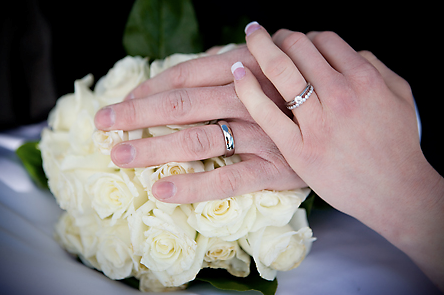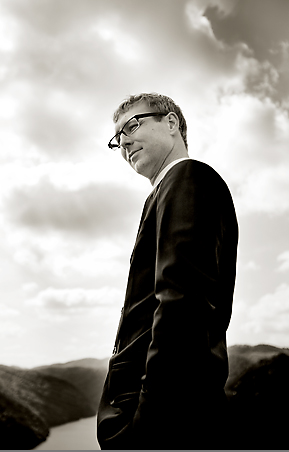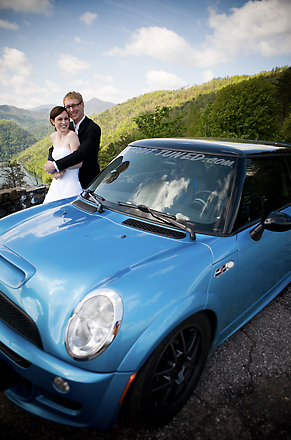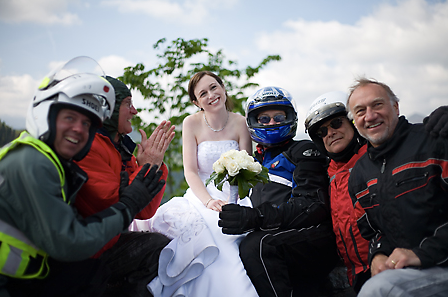 Bikers are an essential part of the Gap/Dragon.... We were all the way in North Carolina...
and where were our new biker friends from? Novi and Farmington Hills :)