Sparkle060509
WEDDING DATE:
Jun 05, 2009
Last updated on April 24, 2009 at 6:29 am
|
We are having our ceremony and reception at the beautiful private estate, Beaulieu Garden in Napa Valley.  The grounds of the estate are equisite and essentially serve as a blank canvas for us to set up however we wish.  And since it's not open to the public, we have complete privacy for the event.  It's all that I could ever ask for. :)
Here are some pics during our walkthrough.  It's a little tough to visualize since nothing is really setup.  (One of the downsides is that we have to rent EVERYTHING).
---
Guests will drive down a quarter-mile sycamore tree lined driveway until this point where valet will greet them.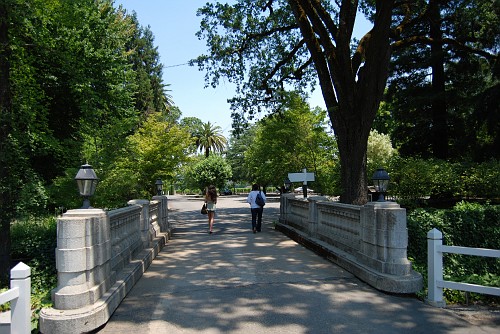 They will then proceed down this walkway.
Until this point where they will enter the rose garden.
The roses should be in bloom and fragrant on our wedding day in June.
The garden will lead them to the entrance to the sunken courtyard where the ceremony will take place.
After the ceremony, guests will gather in this area for cocktail hour.
A bar, cabaret tables, and our string trio will be set up in this area, while passed hors d'oeurves are served.
After cocktail hour, guests will be led down this canopied walkway to the dinner reception.
Dinner tables will be set up under this sycamore canopy for dinner al fresco.
And a dancefloor for guests to dance under the stars.
A view of the pool with the rolling hills in the distance.
We'll be taking in the beautiful views of the vineyard and valley. 
---
Here are some pictures from actual weddings to give a better idea of how it will look when it's all set up.
Last updated on March 9, 2009 at 10:56 am
|
We had our menu tasting recently with Paula LeDuc Catering and the food is TDF!  I was so impressed with everything and can't wait to share it with all our guests.  Here are pics from of our selections.
On the menu:
Passed Hors D'oeuvres
Peking Duck Mini Taco - crunchy wonton 'taco' shells filled with peking-style roast sonoma duck, shaved cabbage and wasabi aioli
Ahi Tuna Cones - miniature crisp cones filled with ahi tuna, dressed with sesame oil, rice wine vinegar, ginger and shallot, garnished with wasabi cream and wasabi tobiko caviar
Smoked Tomato Tartlet - savory tartlet shells filled with a smokey tomato custard and accented with a horseradish chantilly, baby basil and oven dried tomato chip
Truffled Mushroom Sandwich - sieved egg and parmesan crisp
Caviar Beggars Purses (not pictured) - California tobiko caviar joined with creme fraiche wrapped in miniature crepes and tied into 'purses' with a chive ribbon
First Course
Asparagus Ravioli - with parmesan broth and extra virgin olive oil
Main Course
Seared Beef Filet with Merlot Demi-Glace - scallion puree, charred asparagus, and candied shallots garnished with yellow and red pepper curls
Last updated on March 9, 2009 at 10:04 am
|
If you use my pictures, please don't forget to provide credit.
*** For privacy reasons, my bio is almost entirely viewable by friends only. Active bios, feel free to friend request me. The friends only pages are:
Day After photo session
Floral cost breakdown
Wedding party – the look and cost
Pro-pics!
Non pro pics
The Proposal
I heart Blurb
Our STD Postcards
Will you be my bridesmaid?
Haute Bride Bling
Letterpress!!!
Yaye for Bridesmaid Dresses!
FG and RB Ensemble
My Wedding Shoes
Back from the city of sin
Our e-session with Anna Kuperberg
Candy buffet stickers and iron-ons
H&MU Trial and 2nd Fitting
Final Fitting
More projects done.
Back from honeymoon
Pro-pic teasers
Our rehearsal and dinner
Wedding Highlight Video
Candy Buffet - cost breakdown
---
V e n d o r s

Venue | Beaulieu Garden, Rutherford, CA
Caterer | Paula LeDuc
Photographer | Anna Kuperberg
Florist | Asiel Design
Videographer | Lorimerworks
Event Planner | Morgan Doan – Events by Morgan
Lounge Furniture | Blueprint Studios
Lighting | Got Light?
Rentals | Classic Party Rentals
Cake | Flours
Letterpress Invitations | Ink Fancy
DJ | John Jow
String Trio | Synchronicity
Officiant | Pastor John Sullivan
Dress | Monique Lhuillier
Sash | Monique Lhuillier
Veil | Toni Federici
Shoes | Christian Louboutin
Jewelry | Haute Bride
Bridesmaid Dresses | Lazaro from Unique Bride
Bridesmaid Jewelry | Haute Bride
FB Dress and RB Suit | adorablebabyclothes.com
Alterations | Si Arima Alterations
Hair | Styles by Ann
Rehearsal Dinner | Pizzeria Tra Vigne, St. Helena, CA
Accomodations | Yountville Inn, Yountville, CA
Alterations | Si Arima Alterations
Honeymoon Accomodations | Mina A'Salam - Madinat Jumeirah, Dubai UAE
                                       Anantara Dhigu Spa Resort, Maldives