july232011
WEDDING DATE:
Jul 30, 2011
Last updated on January 9, 2011 at 7:55 am
|
First things first, the dress. I have been looking around for dresses, like most of you, since I was in undergrad. Going to different bridal shows with all my friends who were getting married and never really saw one that was me. Finally, I flipped through a magazine and saw it. White House Black Market -The Katharine Bridal Gown- it certainly is me.
I love it because it slick and yet reminds me of something from the late 50's and 60's (Art Deco). It has a split on the from right leg of which I will be having closed. The color is Ecru, which looks pearly white in person. It has a soft sheen to it and compliments my dark cholocate skin perfectly. I LOVE THIS DRESS! I will be adding a fascinator to the middle.
Like many brides, my FI is only about an inch or two taller than me, but don't tell him that, so I am in between high heels or flats. After all it is in a garden. I guess I will figure it out when the times comes. Anyway here are the heels. Badgley Missvchka. I am thinking of having them dyed a slate grey, one of my colors. We will see.
I have not chosen an alternate for flats yet because I am really not liking the idea, I am a high heels girl by nature.
Hair
I am intreged by the 50's and 60's were women were classy and elegant. So that theme will resignate throughout the entire wedding. I am going with the soft finger waves and a small bun in the back. Here is one of the inspiration picks.
I love the strength of her makeup but to put my own twist on it I am going with a bright red and yes heavy black eyes. Not the smokely look though just heavy liner. And, it that look is.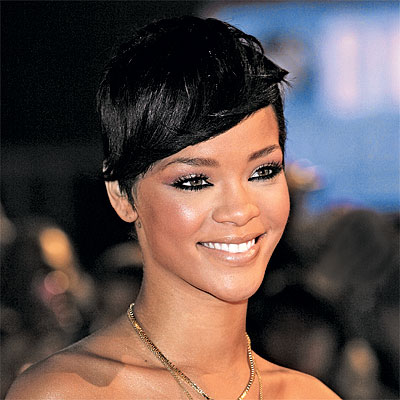 I figure because the eyes are not so heavy I can get away with the bright red lips.
And, last but certainly not least the veil. I am going with a bird cage veil. I have already purchased my fascinator and the french netting. I have not put it together because I am working on adding something else to it.
I have not relaly narrowed down my flowers but when I do I will let you know.
About Us
The story starts out rather ordinary and ended up real sweet. Terrell and I meet in the Fall of 2002, we were introduced by mutual friends. At the time neither of us was interested in dating. Actually, he thought his friends were playing a practical joke on him and so he would not call me. Finally, we met at a friend's house –we will not admit this but he said, "he had already saw me before." But I had never seen him before. That night we stayed up talking until about 5 o'clock in the morning. It did not take long before I felt something in my heart for him in fact, I told him that he and I were going to be in love. I know it was a little brash but I could feel it in my heart and I had to say it. We both work very busy jobs and I am a full time grad student as well. In our spare time we watch CSI –New York and Miami mostly. I force him to watch Criminal Minds and a few others of my favorite shows. Outside of that time we are normally with friends and family. Our wedding will be July 23, 2011.
More to follow...