andreajade
WEDDING DATE:
Oct 06, 2007
Last updated on March 26, 2008 at 3:01 pm
|
Please check out the websites for my new Cupcake Shop(!) at www.siftcupcakery.com
About Us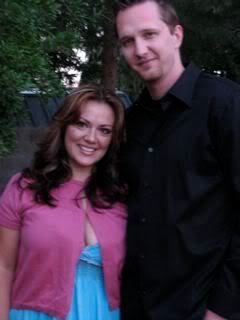 Jeff and I met at a party in San Francisco in 2001. We moved to Vegas 2 years ago...and it's been a ton of fun! But I definitely miss the bay area. I grew up in Benicia and Jeff grew up in San Jose. We were married in wine country October 6th...I can't believe it was just a few months ago! Now we're on to planning other things:
We're opening a cupcake shop in Wine Country! eek! Check it out at www.siftcupcakery.com
About Us
Planning Photos
My Inspiration for the theme of the wedding
The Location
Yummm...dessert!
Invitations
Wedding Day Photos
Vendor Info
Fun Extras
Free STLWed Bio Builder
Planning Photos
Back to Top
My Inspiration for the theme of the wedding
Back to Top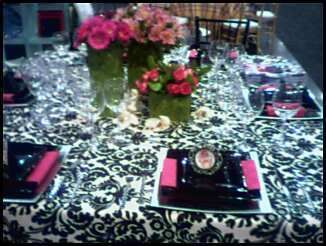 This table setting sums up my whole design for the wedding. I love DAMASK!! And I think hot pink goes beautifully with the black and white!

The Location
Back to Top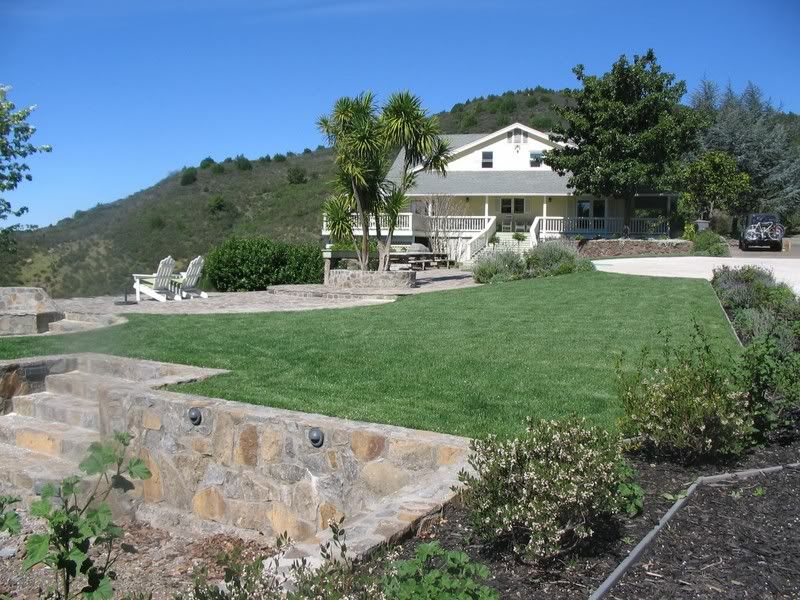 The Ranch!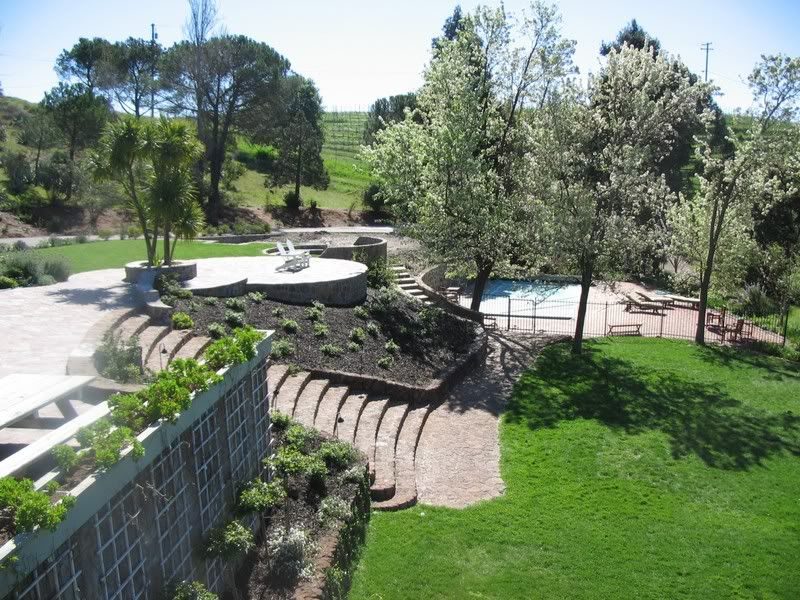 Lawn area where dinner will be served...and lounge set up near the pool



The beautiful view from the deck

Yummm...dessert!
Back to Top

With Mini-Rootbeer Floats!

Invitations
Back to Top

Beautifully designed by Sakegirl aka. Karen. These will be mounted on a fushia backing onto a black pocketfold wrapped with pink ribbon and a gorgeous rhinestone buckle!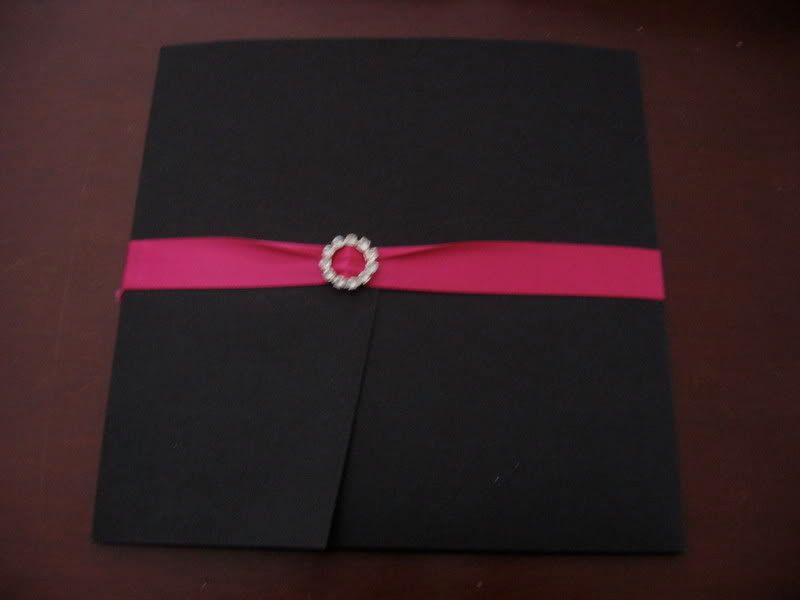 Assembled and ready to go!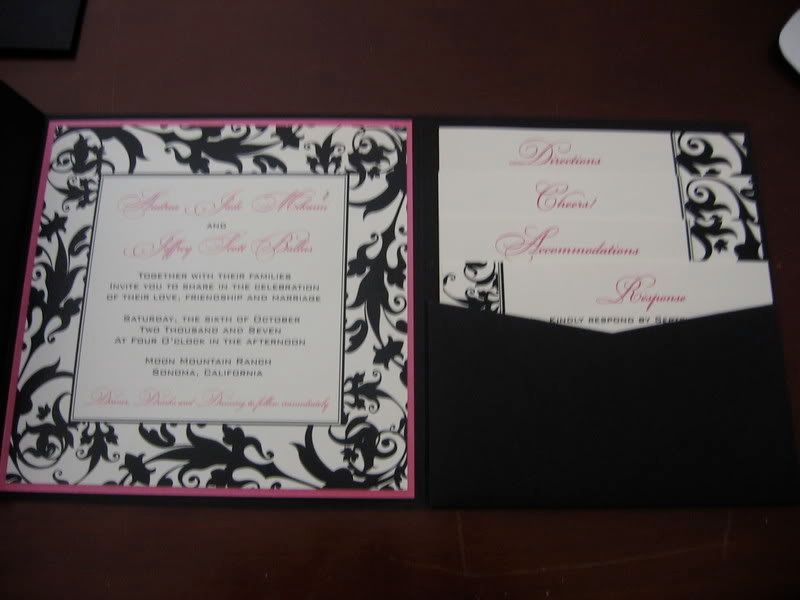 Me and my MOH at the last wedding...

Wedding Day Photos
Back to Top


Wow...all that planning and it went by so fast! I barely had time to breathe but we had the time of our life and it was the best day ever!



The Big Day!




My something blue on my PINK crinoline!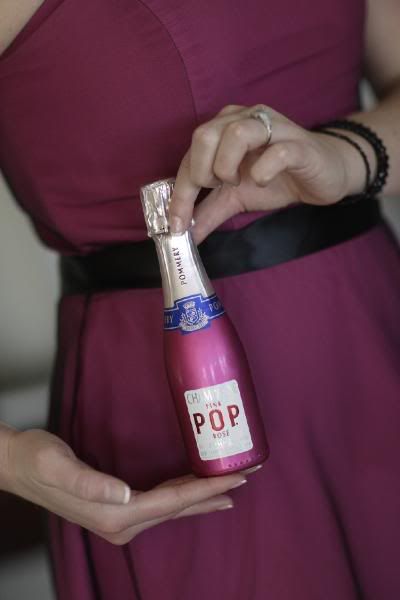 Ladies drinking champagne that matched!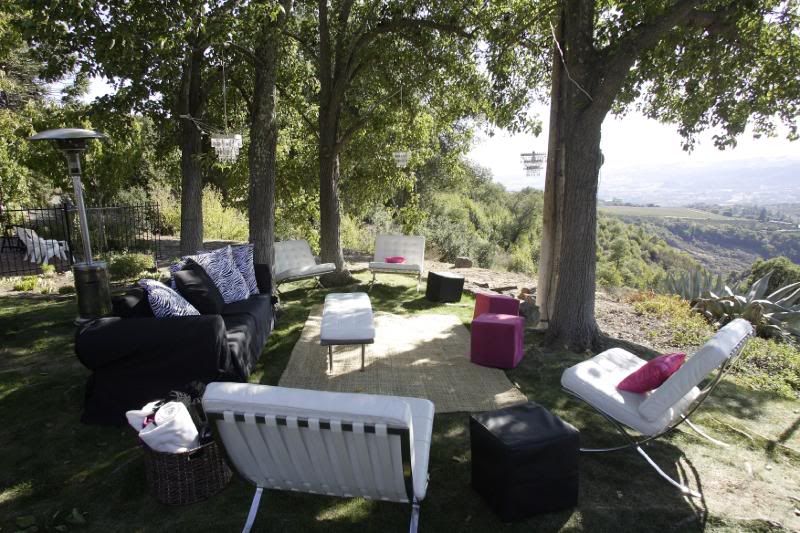 The Lounge



My Cupcakes!

My small candy bar that was gone immediately!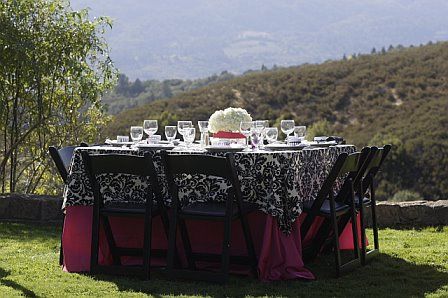 I have the best MOH ever! She made this!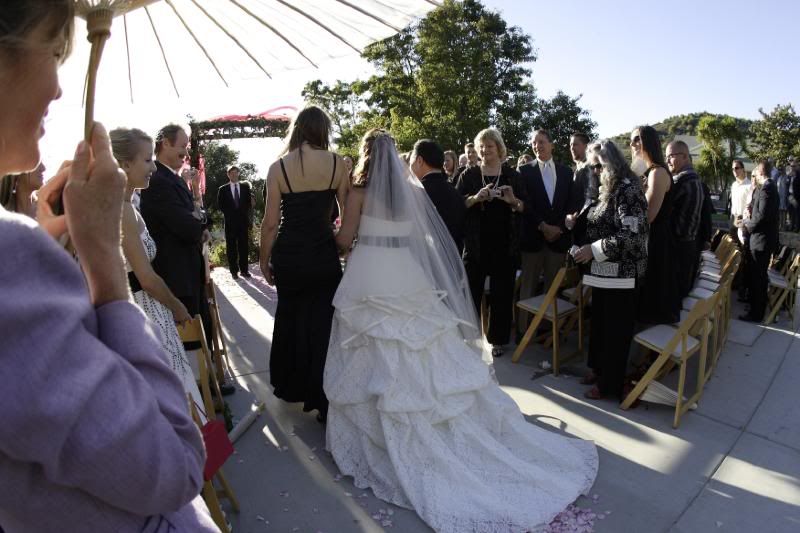 My Mom's beautiful art peice! That happens to match!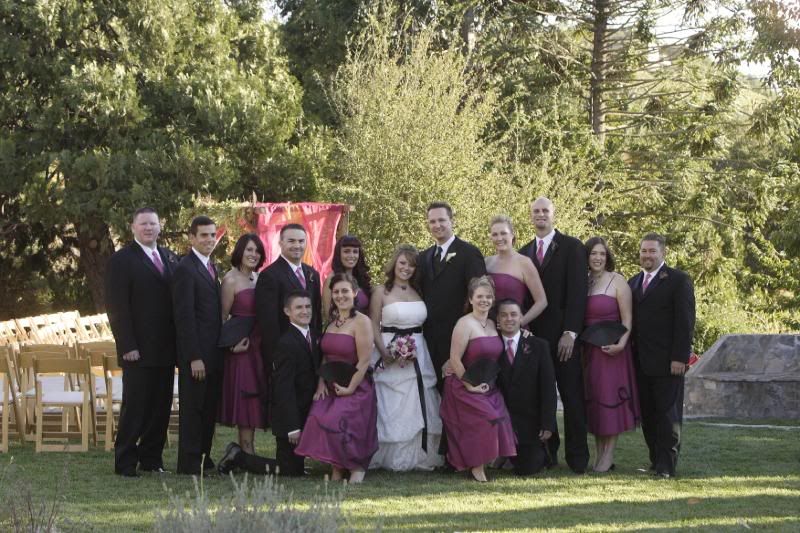 Vendor Information
Back to Top
Ceremony Location - Moon Mtn Ranch
You can rent the whole property for the weekend/week...and it sleeps like 20 people! $6000 (site fee, doesn't include rental of the house). UPDATE: Moon Mtn is no longer doing weddings ;(
Officiant - Our friend Chris!
Free!
Reception Location - Same as Ceremony
Caterers - Wild Thyme Catering
Great food...and really reasonable prices! $57 per person (includes table settings, glasses and napkins)
Cake Creator - Sift Cupcakery
We are opening a new cupcake shop in Wine Country (and the only one that's just cupcakes!)!!
Photographer - Sherman Chu!
I'm so excited about my photog...he works with Sasha Souza all the time and does beautiful work! His prices start at $5500.
Musicians - Internal Affairs
These guys sound so good! We didn't want any cheesy disco band...and these guys are perfect! And totally reasonable for a good band! $2400
Transportation - Pure Luxury
We have to shuttle everyone to the wedding site! I have to rent 2 shuttles, one for 4 hours and another for 10 hours and it's costing me around $1400.
Invitations - Sakegirl!
Our very own knottie did such an amazing job!! I couldn't find anything I liked anywhere!
Rental Company - La Bella
They have my black and white damask linens.
Tuxedos - AfterHours
My Dress - Davids Bridal
I had a very difficult time imagining paying a high price for a dress that I'll only wear once...trust me, I even looked on ebay and craigslist! But I decided to check out Davids and they had something that was super reasonable and I actually liked it! ;) $800
Bridesmaid Dresses - Davids Bridal
I found my girls dresses for $60 on clearance and they all love it! (at least that's what they tell me! ;)
Hair Stylist - Omar!
Friend of a friend that does awesome hair that just moved back to the bay area! yay!
Wedding Coordinator - Myself!
Honeymoon Destination - Maui, Hawaii
Fun Extras
Back to Top
For help with your own bio try: www.STLWed.com/help/bio
For help with Signatures go to: www.STLWed.com/help/siggy