yellesrendezvous
WEDDING DATE:
May 04, 2013
Married since May 4th 2013, and happy to offer wedding planning tips from experience!
Last updated on May 3, 2011 at 1:59 am
|
The Theme
My fiance and I are inspired by nature, science, and oddities. I hope to combine nature like garden herbs with scientific oddities like taxidermy. I'm thinking, rustic-garden wedding with lots of lavender influence! I want our wedding to look like a Wes Anderson movie. We have been collecting deer antlers these past few months for our centerpieces! 
Color Palette
light greens, variations of brown, and hints of grey & some lavender
The Ceremony 
I would love to have the ceremony outside, on the patio of our old train depot.
The Reception 
instead of cake, we're doing berry and lavender pies and a dessert table with lavender and lemon cupcakes: 
centerpieces of anterls, mason jars, herbs, glass, cloches, succulents, books:
The Bride
I am hoping to wear something beige, made of chiffon or cotton, something that really flows nicely.
The Groom
We're thinking a charcoal/slate suit.
 The Bridesmaids
Flowers, the Bouquet, and Boutennieres 
I would love to have a bouquet of garden herbs like rosemary and lavender. Or brown twigs of raw cotton blooms. Or even wheat in my bouquet. Cotton is out of season in April, so I will probably go with lavender :]
Card Box:
Love the birdcage card boxes, with moss detailing!
Guest Book:
And of course, being the writer and collector that I am, for a guest book I'd love to bust out my Remington Rand and Smith Corona type writers for our guests to leave old-fashioned lettered notes to us. 
Last updated on May 1, 2011 at 9:38 am
|
For our four year anniversary dinner, we had reservations at a gastropub near us. We arrived, bringing with us a bottle of Bordeaux that we had been saving and brought back with us from Paris when we visited. Our menu consisted of delicious food, perfect to remember the night by: gruyere biscuits, truffle fries, squid ink pasta with scallops and pancetta, duck with kale, marinated fennel, and fried polenta drizzled with white wine vinegar, and for dessert, macadamia blondies. It was so satisfying, one of our favorite meals. After, we went to historic Winter Park to walk around the busy restaurants, closed shops, and quiet train tracks. For a night cap, we returned home to open our bottle of port from another one of our travels to St. Augustine. We sipped our glasses of port on our balcony, surrounded by our garden herbs, lit lanterns, and strung lights. And there, on the balcony on a quiet evening, he got down on one knee, with my mothers engagement ring. It fit perfectly, and I felt it suited me more than I could have known. 
Engagement ring:
By our wedding photographer, KWU Weddings: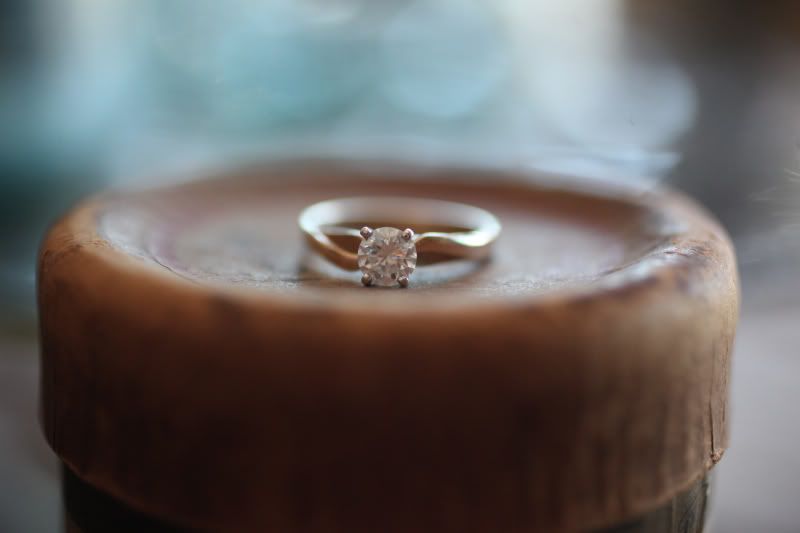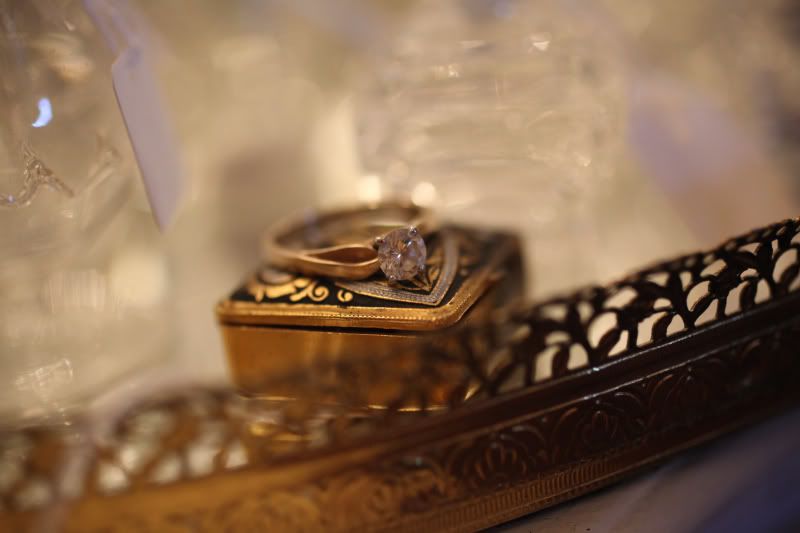 And then, after a year, we decided to update the setting to white gold. Something more me and more classic, so that we can keep in the tradition and pass it on to our daughter.
Weddings bands:
Mine: Black diamond band
FI: titanium & wood (gabon ebony wood)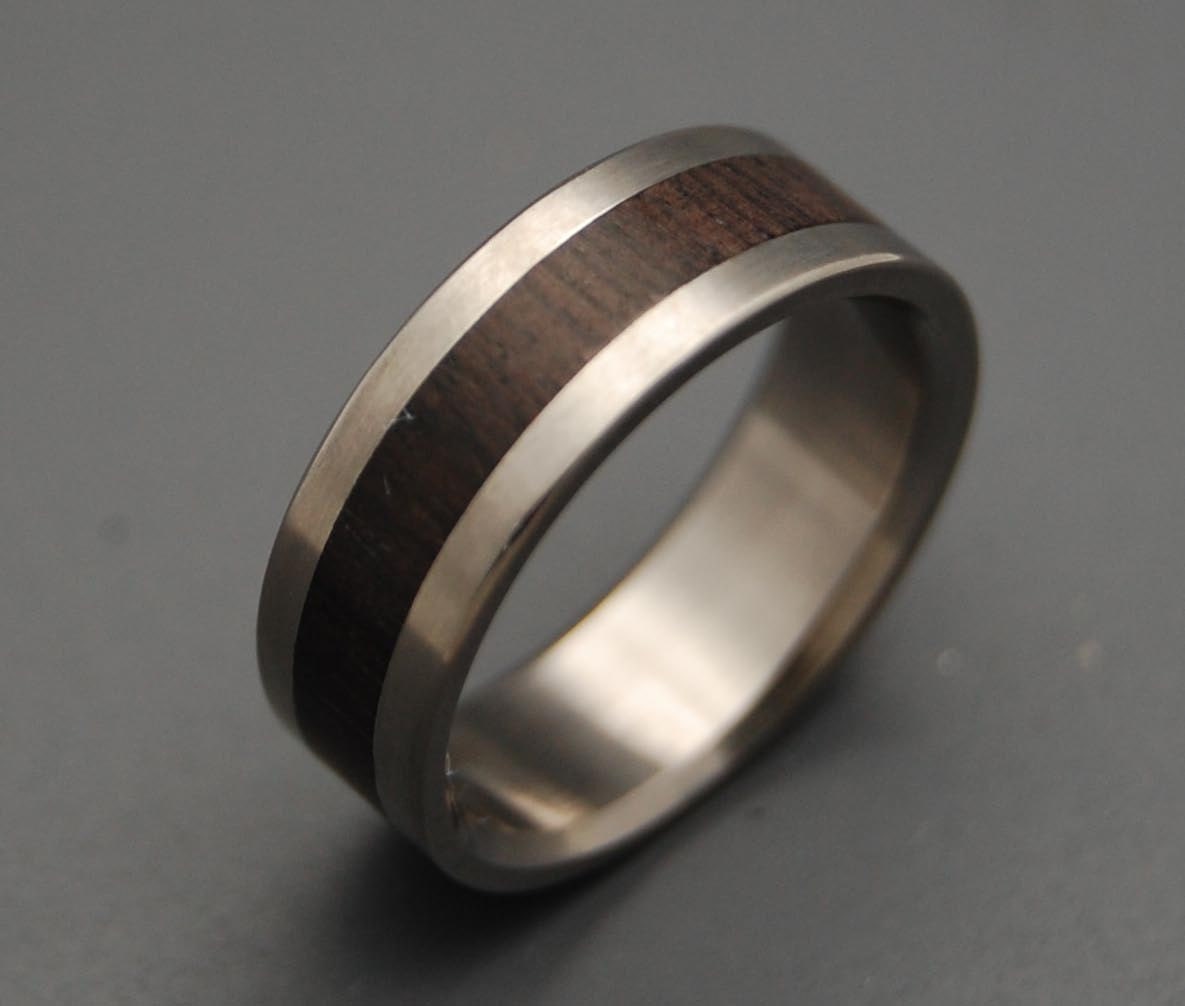 Last updated on April 20, 2011 at 12:42 am
|
You can call me Yelle. I am an Event Coordinator at a local science museum, as well as a licensed hairstylist. I've DIY-ed my apartment, and I plan on DIY-ing most of my wedding.
I blog about events, entertaining, and merrymaking. Check out the pic & link below!
My profile pic is from our engagement session by KWU Weddings.
How We Met
In 2007 he was a freshman at university as an Art and Illustration major. During that time, I was finishing my junior year at high school and my cosmetology school. Through part-time jobs and mutual friends, we had finally heard of each other's names. It wasn't until a political demonstration to raise awareness about displaced families in Uganda, held by the organization Invisible Children, that we met at our university's soccer field, where the demonstration was being held. It was an over-night demonstration where we slept in cardboard boxes, just like the displaced children of Uganda.

Three days after meeting, we watched a film called Art School Confidential, and it was during that film that he asked me to be his girlfriend, May 1st 2007.
Photo from our engagement session by KWU Weddings: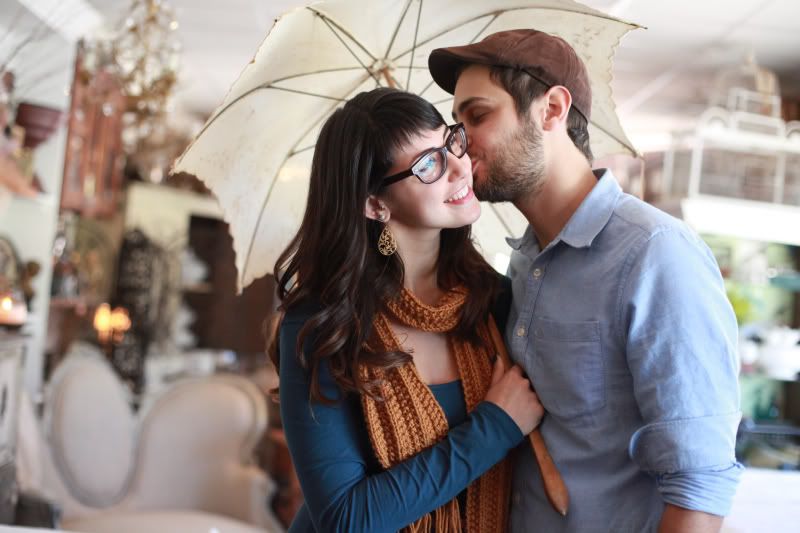 I BLOG! About events, entertaining, and merrymaking! www.tender-roots.com