NicholeB
WEDDING DATE:
Sep 20, 2014
Blessed beyond comprehension. I am looking forward to marrying the love of my life and best friend in the world.
Last updated on September 26, 2013 at 12:12 pm
|
Hello all,
              I found this website by accident and have been pleasantly surprised at how helpful it has proven to be.  I am not a first time bride, however, I have never truly planned a wedding.  I met the love of my life two and half years ago and cannot wait to be his wife.  That being said I was and still am completely unaware of how much goes into planning a wedding.  I am slightly overwhelmed by all of the information that is out there but perhaps with the help of the members from this website I can pull it together in a years time.  I am so looking forward to this experience and most importantly to being an amazing partner and friend to the man that I absolutely adore!   
After feeling a little less overwhelmed since finding my way around, and by all of the warm welcomes; I felt compelled to post a little more about the main reason I joined this site.  For the last 10 and a half years I have remained single.  This was partly by choice but mostly by chance.  I was married for nine years to my previous husband who I shared beautiful children with.  The marriage ended and unfortunately shortly after he passed away from cancer.  My mother passed away six months prior to his passing so I think for the next several years I was just pushing through the day like a mindless droid.  However, time does lend to our healing and fortunately for me, I was coming out of the darkness just in time to meet the man I assumed only exsisted in chic-Flics ;-)  We worked together for over two years before I finally...and accidently I might add shared my feelings for him.  I always assumed I would be taking those thoughts to the grave with me and never thought I would be brave enough to share how I had fallen so deeply in love with him.  To my surprise and sheer relief, he shared similar feelings with me and so it began!  There has been a great deal of change for the both of us since I had to be transferred to a different division since you can't marry or date your immediate supervisor.  That was extremely difficult since I was in the same position for 14 years and of course came to consider the individuals I was working with family.  He was ABSOLUTELY worth it and I always tease him by saying he kicked me out of his office and into his life :)   He has brought so much to my life and to the lives of my children.  The man I prayed for, the man I promised I would take care of and love with everything I have inside...finally arrived!  He is my entire world and I am so honored of his desire for me to be his wife.  I look forward to sharing my experience with you all in addition to having the privelage of sharing yours.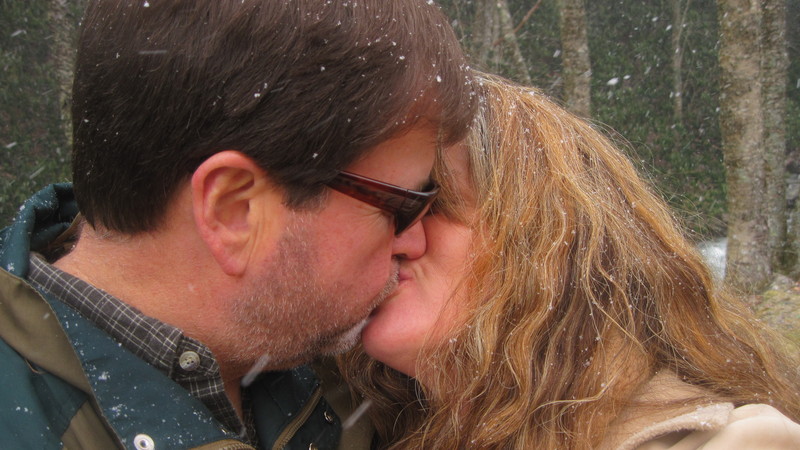 Last updated on September 26, 2013 at 12:08 pm
|

What happens in Vegas doesn't ALWAYS stay in Vegas! 
Well to say that I was excited for my first trip to Las Vegas would be an understatement.  I had been looking forward to the trip for months and I'm sure driving my future fiancé' crazy!  Even before the plane landed Vegas was everything I thought it would be and more.  If the view from my window seat was any indication of how this trip was going to be; I knew there were great things to come!  I could never have imagined just how great!  My sister and her husband were able to accompany us on our trip and although I was always excited about them joining us; I feel extremely fortunate to have shared such a special moment with them.
So we welcomed Vegas the way most people do.  We gambled a little, had some lunch, gambled a little more, had some dinner, gambled a lot more and eventually called it a night…a very late night.  It's hard to sleep in Vegas! 
The next morning Jim insisted on running a bubble bath for me in our HUMUNGOUS tub! Talk about a "Pretty Woman" moment.  All I needed was my Walkman and Prince!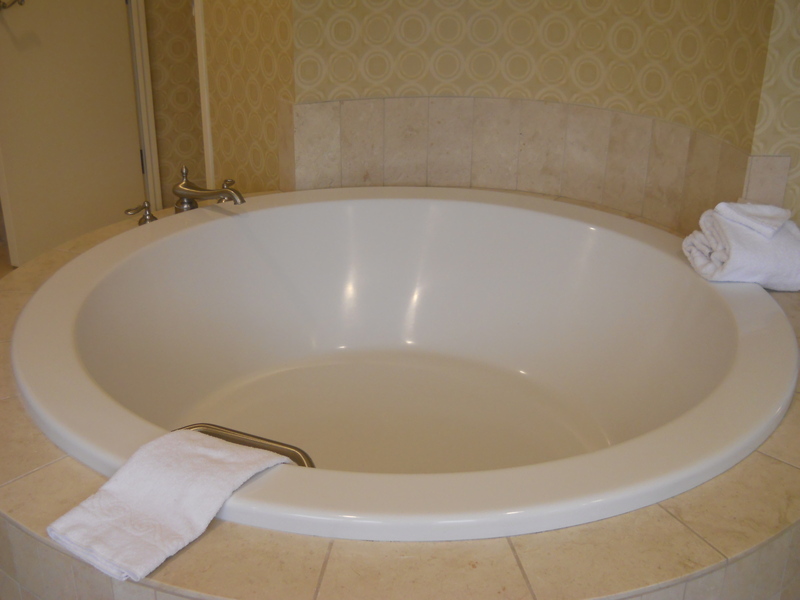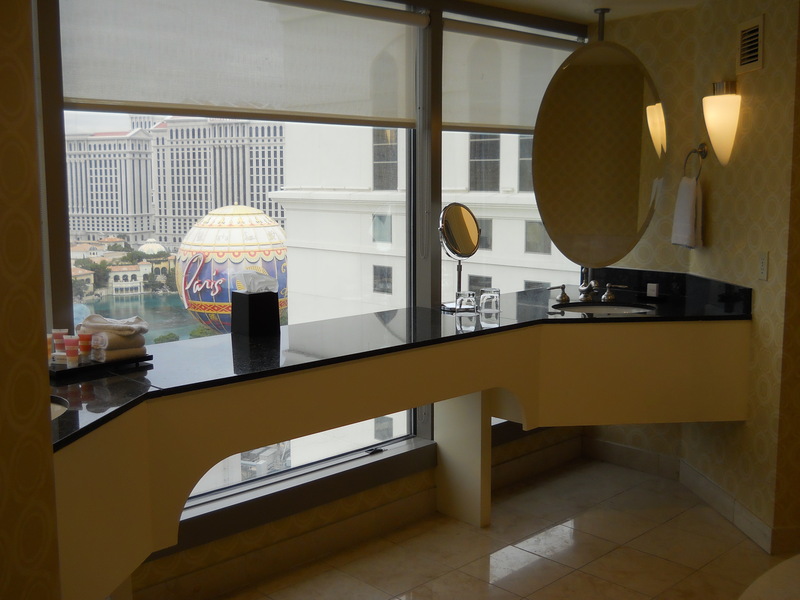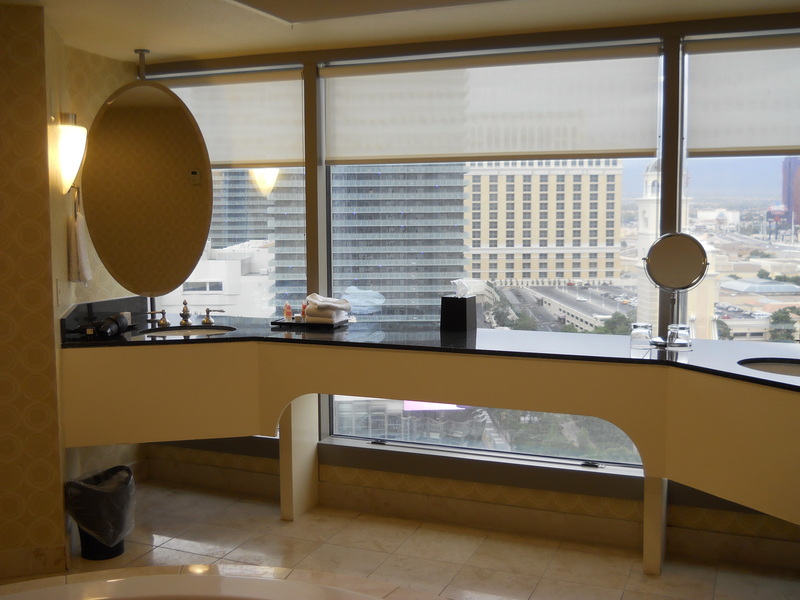 Please forgive the little girl in me but OH MY GOSH the view from the bathroom was breathtaking!  We stayed at Planet Hollywood and had a beautiful room but I simply could not get over the bathroom. It was stunning!  Anyway…sorry I was distracted by the recollection of it all.   There was no bubble bath in the room only shower gel which I was more than willing to settle for but Jim offered to go downstairs and get some bubble bath for me. I protested repeatedly since I thought that would be ridiculous but he offered to bring Starbucks back too and I caved immediately! I know I know I should really seek professional help but I shamefully admit I'm a Starbucks addict; it's been 2 hours since my last cup!  Starbucks was also where our love story sort of began so I am a little partial to it for that reason as well.  So off he goes although I did tell him not to worry about the bubble bath which I'm only sharing in hopes it will win me back some favor :-).  He returns shortly with Starbucks, breakfast, a Victoria Secret bag that contained bubble bath and two Mimosas' in hand.  Jim knew I have never had Mimosa's before and although it's just Mimosa's; I was touched that he remembered.  I was way too excited about having them for the first time ~ go figure.  Seriously? This type of guy only exists in the movies right? How could this be happening to me?  So many times I felt like I was going to open my eyes from a dream! 
After sharing a really fun day together we headed back to the room to get ready for dinner that night which I was so excited about.  We were having dinner at the Stratosphere restaurant and I couldn't wait to get there.  Jim seemed a little off and nervous throughout the day and it seemed to worsen the closer we got to dinner.  I remember asking him several times if he was okay to which he replied that he was just a little nervous about the heights.  Neither of us are very fond of heights and his nervousness had me slightly alarmed but it was short lived due to the fact that I knew the view alone would be stunning…and it was!! 
The four of us shared a wonderful dinner and I was absolutely mesmerized by the view.  I could not stop taking pictures! Throughout dinner Jim made mention (several times) that we had to make sure we didn't forget to go to the Starbucks that was on the indoor observation deck.  I remember how often I kept thinking throughout dinner that this night couldn't get any better and how I would remember it forever!  A Starbucks in the sky! How could an addict…I mean girl resist? 
So we finish dinner and reluctantly head out~ I just didn't want the night to end.  We head up top to grab our favorite Starbucks drinks and discover that the establishment that once served the sweet nectar of life had been turned into a bar!  WHAT…???? I'm seriously trying not to hyperventilate because well...that just wouldn't be attractive.  All kidding aside it really wasn't a big deal to me at all but I look over at Jim who appears devastated!  Although I'm a little confused by his reaction, I reassure him that it's perfectly okay and that the city is full of Starbucks.  I start to head for the exit until my sister quickly darts through one of the shop doors and says "Let's go in this shop real quick"!  What the heck is going on here????
At this point I become a little concerned that I have done or said something to upset Jim since he seemed completely lost.  So I proceed into the store wracking my brain the entire time to see if I could recall any moment before, during or after dinner that would have been the cause for his behavior.  All of the sudden I look up and I'm alone in the store!  Where the hell did everybody go?  My brother in-law comes to the door and says I found them they're out here looking through the viewfinders and want to show us something. 
So as I come walking out of the store I make eye contact with Jim who immediately gets on one knee!!!!! He pulls the ring box open and says "Will you be my wife"?  I couldn't even react…I was in total and complete shock since I had no idea it was coming.  I seriously didn't expect a proposal until after the new year!  To be perfectly honest, New Year's Eve was exactly when I thought he was going to propose.  THIS WAS SO MUCH BETTER! Yes, a proposal at the top of the Stratosphere restaurant in Las Vegas was much more his style!
When I reached down to take his hand it was shaking so bad and I immediately said yes, and pulled him to his feet without really looking at the ring since I just wanted to comfort him and calm his nerves.  After way too much hugging and crying he says to me with this sad look on his face "Did you even look at the ring"? I thought this was adorable because I honestly only glanced at the ring since my immediate reaction was to comfort him.
Upon explanation and close appreciation of my beautiful ring, he completely understood and we hugged more and several people were clapping as they walked by or looked upon and it was just really touching.  My sister took a small video from her camera but it is hard to see and hear but at least we have it.  My favorite song is Diamond by Rihanna so when things had settled a bit Jim leaned in real close to me and said "I had to give you your diamond in the sky"!  Thank you for agreeing to be my wife!
Last updated on November 26, 2012 at 5:06 am
|
My colors thus far are gold and ivory, although I am really trying to work a little burgandy or even some copper in there as well. I am still in the works on my colors.
My invitation inspriations;  All photo's are from PW.
My table numbers and table inspriations;
I just like the lighting behind the bridal table in this one
Seating Cards
This is what I would like the memory table for my parents to resemble.  I would change it up a little bit but this is my inspriation.
My bridal inspirations; :-) My favorite part 
I have so many dresses that I like and I think I will be able to narrow things down once I actually start trying them on but here are a few of my favorites.
This one is very similar to the one above. 
See why it's so hard for me to choose just one?