butterflydreams
WEDDING DATE:
May 02, 2009
Last updated on October 23, 2008 at 1:45 pm
|
HOW WE MET...

Jamie and I met back almost 10 years ago.  He was in a band, playing at the Great New York State Fair, I was there with some friends and family getting ready to go home for the night.  Well a friend of my mother's told us that we just HAD to go see this band that's playing right now, they were great, the lead singer was hot and she thought we'd love them.  So we walked up to the stage and of course I noticed him right away.  My jaw had dropped.  I thought he was the most handsome man I had ever seen.  At that very moment I said to my sister "I'm going to marry that man"  I was young at the time I actually met him(17)and he was a bit older than me, and had a girlfriend at the time, and I was just starting my first "real" relationship, so I figured it would never work and just continued on with life.  I still went to his shows for the next few years, secretly wanting him and wondering the "what ifs" and the possibilities of our life together.  Well after 2 continuous years of going to his shows on and off, some innocent flirting, I became single, as did he, and the summer of 2002 he came to me and told me that he would like to make a go at a relationship with me.  So scared, but excited I said sure!  And hoped for the best.  My family and friends were skeptical at first, him being in a band, and older, and the first few years weren't the greatest, he lived a very fast lifestyle(not gonna lie)we definitely hit a few bumps the first few years together, but then 4 years ago, something horrible happened, my mother, who was my best friend had  passed away of lung cancer, and at that point in life, we both just realized life was too short.  We became closer as a couple and as friends, we've learned how to communicate with one and other, and we have never been more happy in the past 4 years of the 7 years of this relationship!  And it just keeps getting better!  He has showed me that people do and can change for the better, he is my best friend and my hero.  I watch him take steps to become a better person every single day, and he helps me to do the same.  He is my soul mate, my dream come true, and I am so happy to soon call him my husband and spend the rest of my life with him!!  So after almost 7 yrs of being together as a couple, we finally get to start planning our future as husband and wife!!
THE PROPOSAL...
So Jamie and I had been together for over 5 years at this point!  Needless to say, I thought we'd never be getting married lol.  During the winter of 2007 he was really upset about being in a rut at work, and worried pretty much about Christmas and "complained" that he wasn't going to be able to spend much for presents.  So me, being the nice girlfriend I am, told him not to worry about me, we'd just worry about family and just buy each other a little something non-expensive since we were so tight on money.  So Christmas day comes(we don't live together, so he usually comes by early afternoon after spending time with his family first)and he calls me smack at 9 am(which was weird since Jamie loves to sleep in, or at least trys to)and tells me that he just had gotten up, and that he was going to shower, spend time with the family, and then stop by, which was fine with me, since I had to do the same.  Not 5 minutes after we hung up the phone, does he come walking in my door!  I couldn't believe it, the plan I guess was for him to do it w/ my family present, but he was already up and showered and at my house before 10 am!!  I guess he was so anxious to do it, he just couldn't wait, which I thought was cute!  So he comes in, all nervous, he couldn't stand still, and tells me to go upstairs with him, he wanted us to "open our gifts alone" which I thought was odd!  So we walked upstairs, and I noticed this little black box in his hand and I remember thinking OMG, if these are earrings, I'm going to kill him LOL.  But it was a beautiful ring, and with pajamas, no makeup, messy hair, and not even a toothbrush in my mouth, I said yes!  And I couldn't be more happy!  And everyone joked with me that if he could stand there, and tell me how much he loves me and wants to be with me while I hadn't showered, had no makeup on, or hadn't brushed my teeth, then he must really love me lol.
It's not the most romantic of proposal stories, nor is he the most romantic kind of guy, but I couldn't expect a proposal from him any other way! 
My ring is a 3 stone round cut diamonds 14k white gold, and my wedding band is .75 7 stone diamond ring, 14k white gold(don't mind the nasty un-manicured nails haha)

His wedding band...
 THE PLANNING PROCESS...
So the planning has started, yay!!  Although this is a once in a lifetime thing, and it's every girls dream, I'm so stressed out about this planning!  I never knew how hard it actually is to plan a wedding!  It's an emotional rollercoaster and I'm finally enjoying the ride now that things are slowly starting to settle in place.  Anyways, We are having a BIG wedding.  Our guestlist is already at over 300 people!  We both come from big Italian families, so there really was no way around that.  We are getting married in a catholic church, the same church that my mother and father were married in!  Even though they divorced lol, but they were still the bestest of friends till the day she passed.  The reception will be held at a really pretty country club on a golf course(I'll try and find pics) but the room is absolutely breathtaking.  I am going for a real regal, rich, royal and elegant looking wedding, so my colors are dark purples, eggplant and plum, and gold!  With Ivory accents!  Our date is MAY 2, 2009
 My Dress!!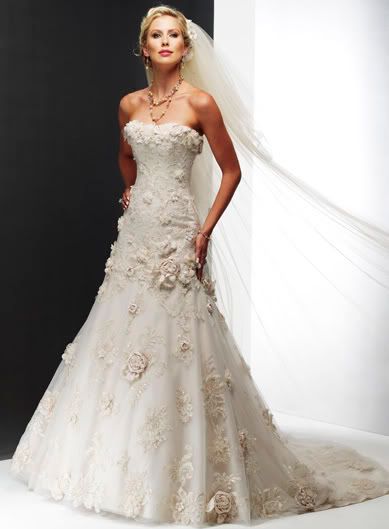 So I stumbled upon old pics of when I first ordered my dress, this one that I tried on was a size 10(I ordered a petite size 2 I believe)that's why it looks like I'm drowning in the dress lol, but my dress should come in at the end of January, and should fit a little bit better, plus I'm getting a shoulder length veil, I feel this one was too overwhelming.........
My wedding dress in another life maybe :(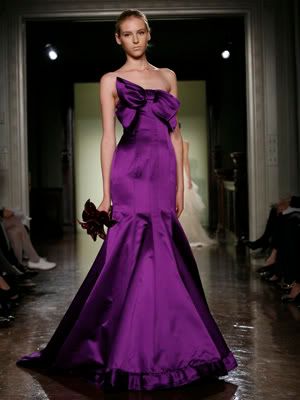 My custom made garter......FI is a HUGE Dallas fan, unfortunately, I am not, I'm a HUGE Giants fan, so I had to compromise lol......
BRIDESMAIDS DRESSES....but in deep Purple(Plum color)
                                 MAKE-UP INSPIRATION...I want dark eyes, big lashes, and pale/nude/pink lips
 MY SHOES!
 HAIR INSIRATION....love how my hair looks half up half down, and I HAVE to have the "poof" "puff" "hump" whatever you call it lol
JEWELRY: Etsy.com, Designer: Danasaylordesigns.......I just put a down payment on the bracelet, she will be
making me earrings to match! =)
UPDATE: My jewelry is all finished!  Just ordered it today 1/14/09!!!!
I have just ordered these butterflies off of etsy.....I got 75 purple and 75 yellowish gold ones, they will be put on my centerpieces, our bouquets, and my wedding cake!!
CENTERPIECE INSPIRATION PICS......
HONEYMOON!!!! We are staying at the Dreams Los Cabos Resort and Spa in Cabo San Lucas!
THE IMPORTANT THINGS IN MY LIFE, BESIDES THIS WEDDING LOL....
MY DADDY AND I
MOM WITH COOPER AS A PUPPY....
                                                                       THE ONE THING WE DON'T AGREE ON HAHA!