katching
WEDDING DATE:
Nov 03, 2007
Last updated on November 25, 2007 at 8:02 am
|
Wedding recap
After three full months of planning, it's finally over. I will be going over the details of the wedding as much as I can. DH and I did not have a lot saved up for this wedding that is why we tried to do everything on a budget. We wanted our wedding to be simple and we wanted it to reflect our personalities. Now that the wedding is done, there are things that I would love to do over if given the chance. But I'd like to share it with new knotties because I know how overwhelming wedding planning can be and on top of that how expensive it can get. Overall, DH and I spent roughly about $7,000.00. One of the main reasons we were able to stay within our budget was our guest list, we invited 90 guests and about 80 came.
We also had our honeymoon on a budget. Granted it's not Europe or anything like that, the important thing for us was that we were able to spend time together and we really did have fun.
Vendor and Budget review:
Ceremony Location: Our Lady of Peace North Hills, CA
Church fee - $350.00 (The actual cost is $500.00 but since we're a member of the parish, the priest was able to give us a better deal)
Wedding Coordinator - $150.00
Music (Canter, Pianist and Violinist) – $400.00
TOTAL SAVINGS: $250.00
Since our wedding ceremony started at 10:00 a.m. a lot of people were not able to make it (I will explain why the ceremony was early later). The music was beautiful, the weather was perfect, the wedding party looked great in their dresses and tuxedos. One downside about it was that the wedding coordinator was unpleasant.
Things that went wrong:
1. I was not able to give the ceremony programs to our ushers
2. I forgot to bring a bible for our bible bearer
3. I forgot to buy a flower basket for my flower girl
When you have 100 things going through your mind, even a checklist does not help. My regret is not hirnig at least a "day of planner".
Reception Location: Sportsmen's Lodge Hotel Studio City, CA
One thing I took advantage was the military discount. But since the hotel cannot give us that, the catering manager waived the cake cutting fee (saved $450.00), the corkage fee for the champagne (saved $120, the hotel was charging $10.00 per bottle. We were able to purchase peach flavored sparkling wine and apple cider at Trader Joe's for less than $5.00 each), we pre-paid 16 pitchers of beverages and they served sweetened iced tea for free. She was also kind enough to let us hire an outside vendor for our chair covers (saved $250.00 since they were charging $500.00 and I was able to find a company who did it for $250.00)
Chair covers, centerpieces and table covers - Nico Party Store Pacoima, CA
I hired the same company who gave us a good deal for the chair covers to do our centerpieces and also the brown table covers to go with our theme. She charged $195.00 ($15.00 per centerpiece including the one on our table, 13 tables total) and $34.00 for the brown table covers
Flowers for the wedding party - my sister in law's mom, Tita Emmie
Total cost: free
Tita Emmie and Tito Roland are very sweet. Tita Emmie is one of the most talented people I know. I truly admire her creativity and that is no joke. I was inspired to start painting after seeing one of her art works at my brother's house.
She did my bouquet, my wedding party's bouquets and boutonnières.
If you would like to inquire about her services, please message me. She will work with all budgets and incorporate your style.
DJ and MC – Let's Make a Memory
He was originally charging us $3,000.00 with photography and videography. One thing I learned from knottie Kertybird was to negotiate. We decided to waive the photography and videography since it was not within our budget.
Photography – Nataly Lemus
I stumbled across her website about a year ago, I believe she was fairly new in the business but I fell in love with her style. Hiring her was the first decision DH and I agreed on. We are both glad that we did. She also charged us her 2006 price which was really nice of her.
Videography – Egan Jover
Since we were on a very tight budget, we needed to pass on our DJ's package and starting looking for a more affordable option. DH and I took a chance on scanning through craigslist.com and found Egan's post. We are also very satisfied with his service. He had the DVD ready for us in less than a week.
Wedding Cake – Chinese Perfect Bakery
Cost: $210.00 (flowers, raffia and delivery included)
I got the inspiration from theknot tv show, I took a picture and gave it to the baker. I told him that we will provide the fresh flowers the day before the wedding and the raffia. We had three layers of white cake with fresh strawberries. We twisted the raffia ourselves. It was so rewarding when we saw how the cake turned out. It was beautiful.
Wedding Dress – Rosa Bridal Shop
Cost: $400.00
Rosa did my bridesmaids dress for my brother and sister-in-law's wedding so I knew that she's good. I just gave her the sketch and explained to her the details and a picture of the veil, I picked it up a month and a half later and it was exactly how I wanted it to be. She even included the veil, gloves, ring pillow and garter.
Tuxedo – Men's Warehouse
Cost: Free for the groom
Favors – Almond Clusters
Cost: $75.00
We bought 2 Kraft favor boxes with printable labels at target for $19.00 (50 boxes) and 5 Kirkland Almond Clusters for $7.00. My MOH and SIL helped us box this on time.
Hair and Make up – Noel
Cost: $60.00
Transportation – Mini Cooper
Cost - $127.00 with military discount
Stationeries and Misc. (Invitations, RSVP Postcard, Programs, Table Numbers, Place Cards, Thank you Cards, Memory Table and Polaroid Guestbook)
Cost: $200
Most are DIY project, we bought the materials in bulk at Kelly Paper, Pocketful of Treasures and Target. The Polaroid guestbook, we bought about a year before the wedding at Adesso.com, we used our own Polaroid and just purchased the films.
Honeymoon – Cancun Resort, Las Vegas for one week!
Cost – Free (courtesy of my wonderful brother and sister in law)
Again, thanks to military discount, we experienced a lot in Vegas for a fraction of the cost!
Here's a list of templates and useful links that helped me with the planning:
Guestlist, Budget and Checklist Worksheet download here: http://weddings.shanbritedesigns.com/templates/guestlist.xlt
Wedding Contact Info: http://weddings.shanbritedesigns.com/templates/weddingaddressbook.pdf
Catholic Wedding Info: http://www.theknot.com/co_profileview.htm?profilename=Catholic_Bride
I also have the following:
Memory Table Sign
Polaroid Guestbook Sign
Bifold Wedding Program Template
Gift Log
Anima Christi Chords
SONGS
Church:
Processional - Jesu, Joy of Man's Desiring
Bride's Entrance – Canon in D
Responsorial Psalm – Taste and See
Gospel Acclamation – Celtic Alleluia
Offertory – The Prayer
Eucharistic Prayer – Mass of Creation
Communion – Anima Christi
Presentation – Ave Maria (Bach-Gounod)
Recessional – Wedding March
Reception:
I. Introduction Of The Wedding Entourage
Parents + Wedding Party (Song)
-Center Of The Sun-Wolfgang
Bride and Groom (Song)
-Man '98 –Wolfgang
II. First Dance (Song)
-Lover Lay Down -Dave Matthews Band
The Bride and Groom, then the Groom and Bride's parents. After a short interval, everyone is asked to join in.
III. Invocation
IV. Luncheon
V. Pictures per table
VI. Games
VII. Dollar Dance
-Better Together –Jack Johnson
-Brighter Than Sunshine -Aqualung
-Around The Clock –Rocket Summer
-The Way I Am - Ingrid Michaelson
VIII. Speeches
• Toast To The Bride and Groom
• Response by the Bride and Groom
IX. Cake Cutting
-Pour some sugar on me – Def Leppard
X. Centerpiece Giveaway
XI. Bouquet Toss
- With You(Chorus Part) –Jessica Simpson
XII. Garter Toss
- Mission Impossible Soundtrack
XIII. Dance
• Mother/Groom and Brother/Bride
-What A Wonderful World-Iz Kamakawiwo'ole
• General Dance
• Circle For Departure (Song)
-Closing Time -Semisonic
List of suggested songs to be played at the reception: I will follow you into the dark – Death Cab for Cutie
Sweetest Thing – U2
Baby It's Fact – HelloGoodbye
It's Love – HelloGoodbye
Lover Lay Down – DMB
I'm Yours – Jason Mraz
I've Got You Babe - UB40
Every Breathe You Take – UB40
Sunrise – Norah Jones
Mission Impossible for Garter Toss
All You Need Is Love – Beatles
This Years Love – David Gray
Beyond the Sea – Michael Buble
Around the Clock – The Rocket Summer
Amber – 311
Somewhere Over The Rainbow – Iz
I Melt With You – Jason Mraz
All You Need is Love – Beatles
Turn Me On – Norah Jones
Don't Panic – Coldplay
I Wanna Hold Your Hand – Beatles
Here There and Everywhere - Beatles
Beautiful Day – U2
Something – Beatles
With You – Jessica Simpson
Pour some sugar on me – Def Leppard
Satellite – Dave Matthews band
Collide – Howie day
Crazy Love – Van Morrison
Better Together – Jack Johnson
Chariot – Gavin De Graw
Aqualung – brighter than sunshine
One Chance – Modest Mouse
Float on – Modest Mouse
First day of my life – Bright eyes
Better together – Jack Johnson
I Will – Beatles
With a Little Friends from My Friends – Beatles
God Only Knows – Beach Boys
Brown Eyed Girl – Van Morrison
So Far Away – Staind
Our DO NOT PLAY list:
Mambo #5
Macarena
No chicken dance, conga line, and no electric slide No organized line dances of any kind.
No Jessica Simpson, Britney Spears, etc
No boy bands
No Oldies/sentimental
No twist
No ballroom dancing
No Celine Dion
No Shania Twain
TIPS:
Think everything through. DH and I feel that we didn't plan enough causing chaotic results.
Have the vendor payments ready and assign someone to distribute it.
Delegate the responsibility. I didn't realize this until the morning of the wedding. It dawned on me that I cannot be at the church to pass out the wedding programs myself. Again, we didn't plan enough.
Will update again soon!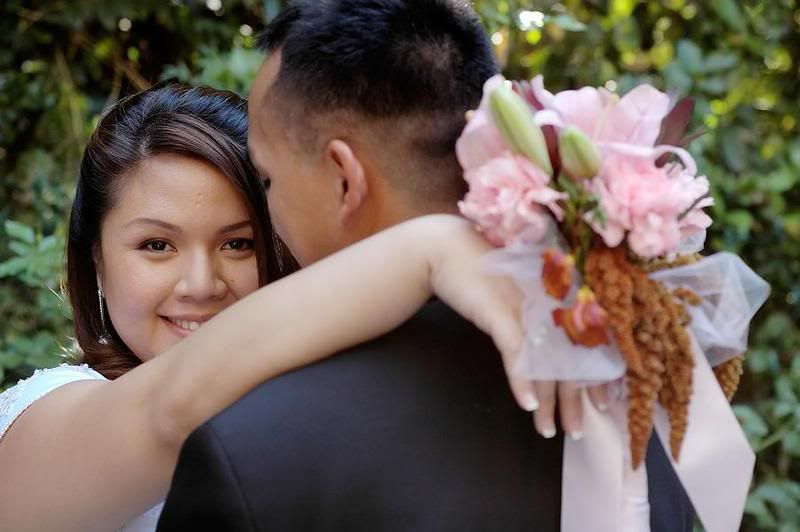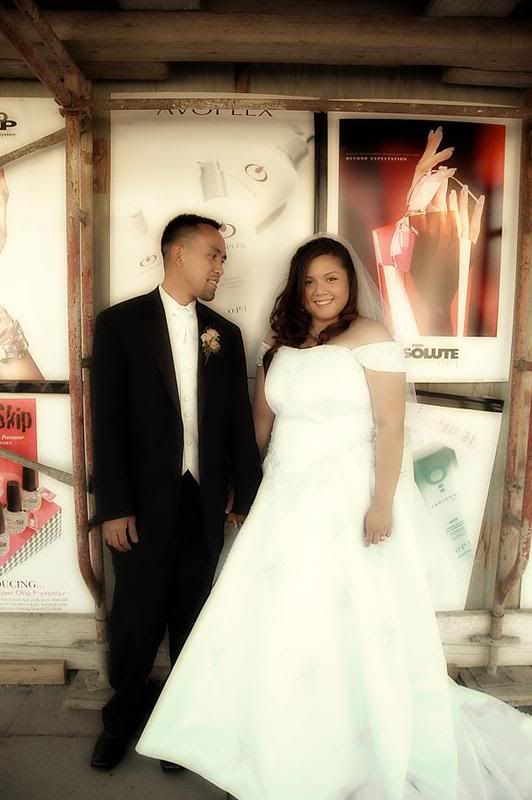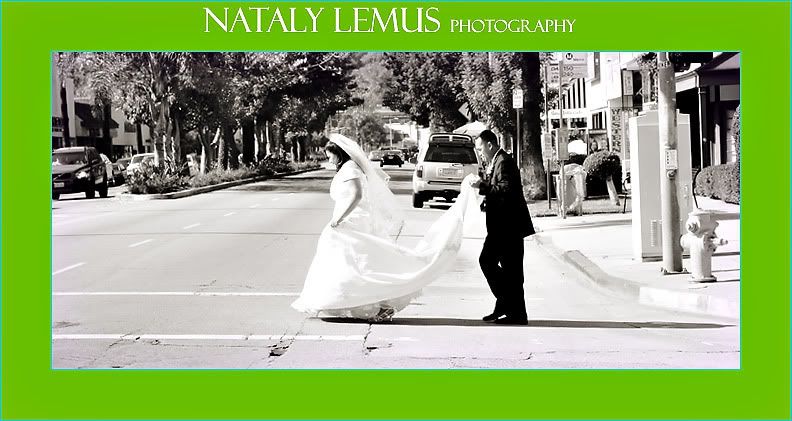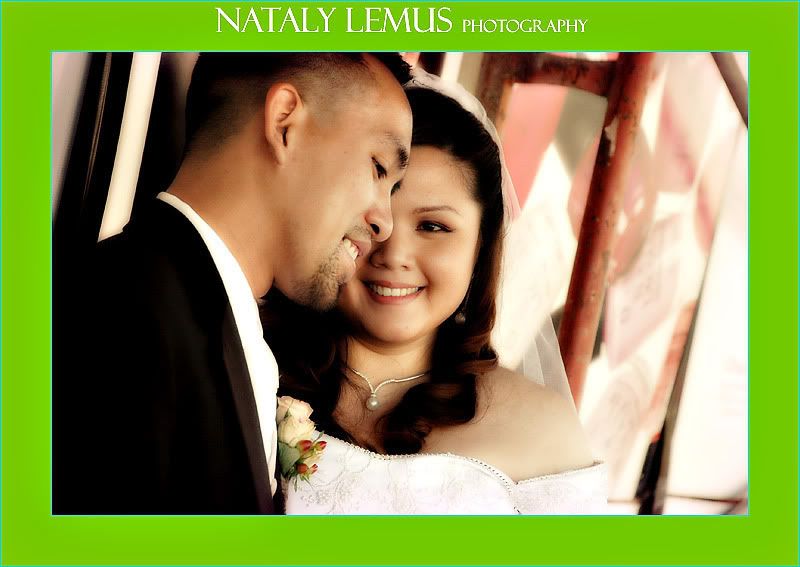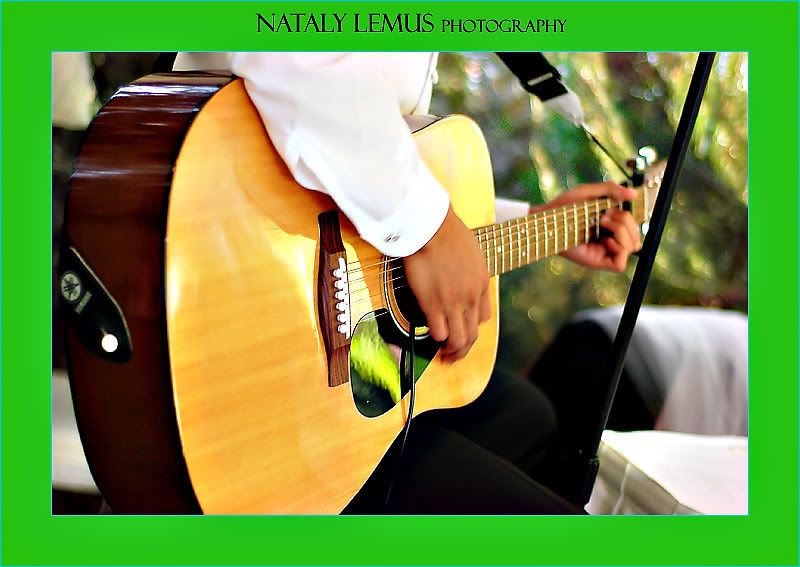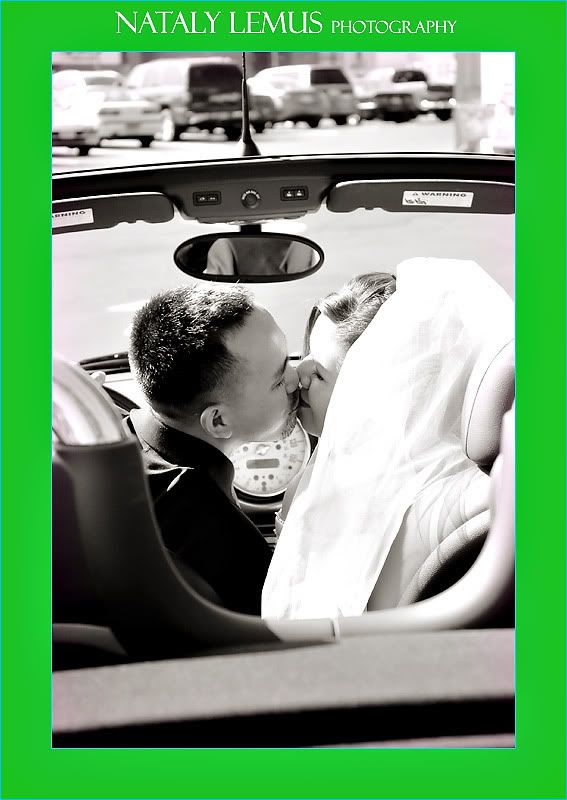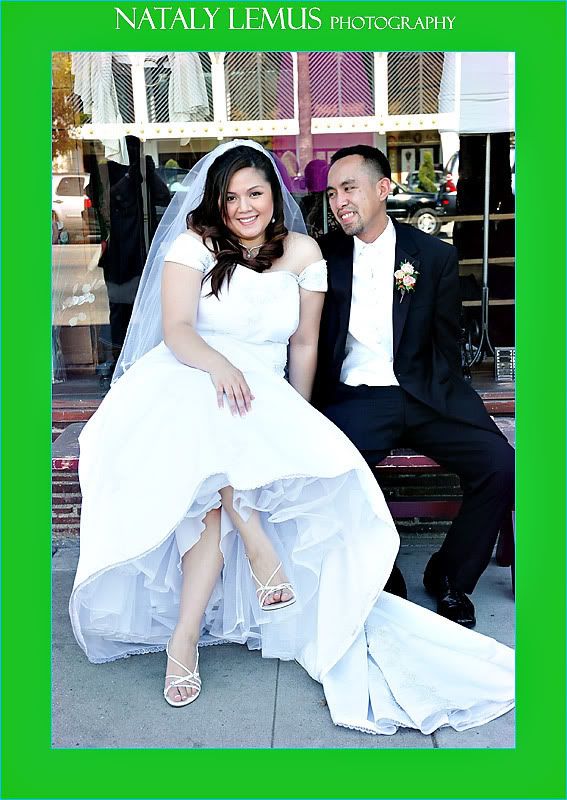 Engagement Pictures