Cloudgate
WEDDING DATE:
Mar 27, 2010
Last updated on July 19, 2009 at 5:02 am
|
Ceremony location: Ralston Hall Mansion (Belmont, CA)
Why I picked the place: indoors (our wedding is in March), elegantly decorated, and the staff was extremly helpful and nice.
Decorations: Since the location already has a timeless beauty, I decided to keep decorating very simple.
Golden chivari chairs with white cushions
While aisle runner with monogram

Front alter, two large floral vases
Attire:
Bride: elegant, strapless ivory trumpet dress (searching) with light pink and creme colored flowers
Bridesmaids: short, a-line, and pinkish  with light and darker pink flowers
Groom: black tux/suit with ivory vest and tie; finished off with a calla lily (maybe with some lillies of the valley)
Groomsmen: black tux/suit with black vest and tie; finished off with a pink calla lily
Family: Orchid boutonniere
Ceremony Music:

There is grand piano which I am renting, still thinking about having a DJ or speakers
Following the ceremony:
After the ceremony, we plan to have some refreshments for our guest; a buffet of crakers, cheese, salami, veggies, and grapes along with non-alcoholic drinks. We thought it would be nice to let people mingle and enjoy the mansion while photos are being taken.
Following photos, we are thinking about cutting the cake at the ceremony location since another dessert will be served at the reception.
Cake:
I like something really simple but elegant. I personally don't like the taste of fondant therefore will be getting a fresh cream cake.
# of tiers: TBD
cake flavor: TBD
flowers: pink flower to match the bridesmaid bouquet
Reception: TBD; but definately doing a Chinese banquet dinner
Insirpational photos:
The look overall will be very neutral from table cloths to uplighting.
For the dance floor, staggering white paper lanters.
I love these lanterns! I want to put them as centerpieces and having an orchid plant (white) next to it so that the orchids hang over the top of the lantern (or just adding a flower to the top)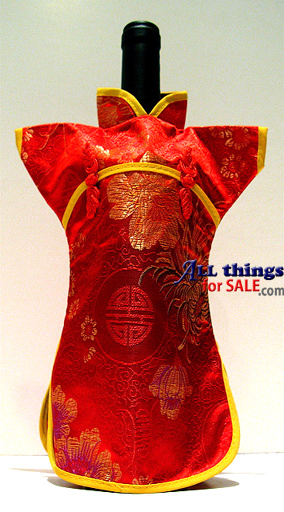 Also on the table will be these cute wine bottles covers which my family and I picked up on our last trip to Shanghai. It'll be the only pop of color I invision for the reception.
Reception Music:

DJ
Favors:
Still thinking about which one would be better...
Photobooth with frames on everyone's plate (may be expensive since I want to get frames with a metal boarder)
Wine glasses covered with lamp shades
Stationary:
Save the Date magnets (in progress will post pictures when complete)
Invitations (TBD)
Ceremony cards
Table numbers (probably photos of us in 25 different cities)
Menu card for each guest to describe the multiple dishes being offered
Seating chart 
Thank you cards
Other service:
Photographer: Mark Kuroda
Videographer: TBD
Officiant: TBD
Coordinator: TBD
Florist: TBD
Last updated on July 19, 2009 at 4:20 am
|
The Proposal
Tim had planned a very nice Valentine's weekend in my favorite city, Chicago. It happened on Saturday morning when I woke up to one of our favorite songs. Tim was gone, but I found a riddle and flowers, which lead me to my favorite landmark, "the bean", in Millennium Park.

In front of the bean we reflected on the past and Tim, dressed in suit and tie, spoke about our future together. A moment later, he was down on one knee. I watched the snow flurries fly around us as he presented me with the ring. At that point, I pulled him up and said yes as he put the ring on my finger. A small group of people nearby were watching us and applauded afterwards. So romantic!
The Ring
Okay, I admit, I knew about the ring! Come on, I had to guide Tim through the process to ensure that I would have the perfect ring!

We looked at different stores and designs--nothing was "perfect." A friend recommended a custom jewler which could make what I considered "perfect." I helped in explaining what I liked (like the peek-a-boo diamonds on the sides) to the jewler but ultimately Tim made the final decisions and picked up the ring.

When Tim proposed, I could not take my eyes off the ring except to say "I do"--it is pefect!