smallicedmocha
WEDDING DATE:
Aug 15, 2010
Head over to:
www.maureenandvictor.blogspot.com
Last updated on May 28, 2009 at 5:26 am
|
So on a beautiful, sunny Saturday, Victor packed my newly purchased DSLR camera, his gift of a tripod and myself into his car and we took a drive towards the beach in an effort to get some nice shots with my new toy. We arrived at the beach, which had an empty parking lot, some gray-ish colored water and a lot of seagulls. Needless to say, it was not the most attractive spot for a photoshoot of any type. So we repack ourselves and head off towards a gem of a place that Victor stumbled across about a week ago. It was this cute little docked area with some trees and grass, a couple benches, and a view of the open sea as well as some beautiful houses across the water.

I play with my camera, take a couple shots, and then take out the tripod and play with the camera's timer. After me capturing a few photos of us, Victor meekly asks if he could have the honor of touching my new camera. I, of course, say yes and set myself on the bench and wait for his signal to pose. After he frames the photo and clicks the shutter button, he walks over and, instead of nestling into the seat next to me, he bends down on one knee, pulls out a ring box and utters the sacred words "Will you marry me?" as the camera takes a photograph of my gleeful expression (see below).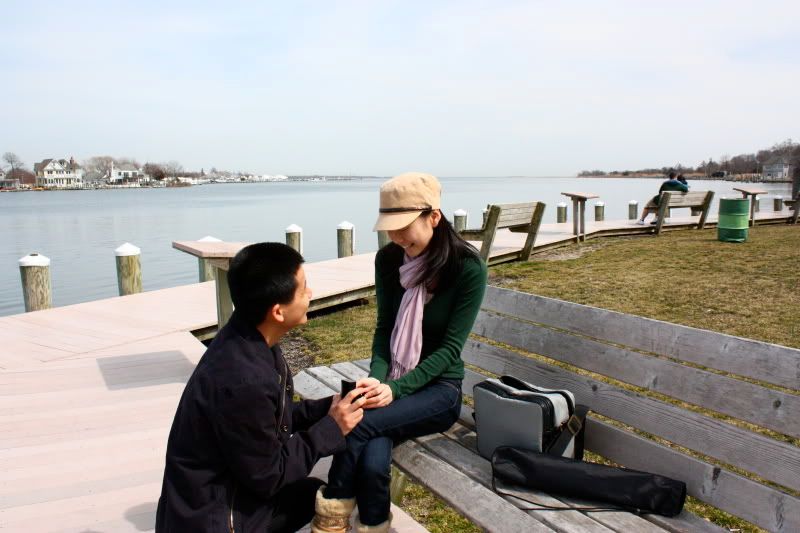 I must say that I am thoroughly impressed by the perfect mix of planned incidents and spontaneous casualness, and it was definitely a surprise despite my expecting it to be happening at some point between spring break and the end of the school year. AND I am more than pleased with the ring, being not as serious and boring and more fun and playful (see below). The ring is a pink sapphire with small diamond insets on the side in the shape of two delicate butterflies. We had discussed having a sapphire because of the conflict diamonds as well as because sapphire used to be the traditional gem of proposal (Princess Diana had one!), being a symbol of fidelity and commitment. It was also an added plus that both of us are September babies, and the sapphire is the designated birthstone for that month.