A Rose Designs
Vendor recommendation from Belly Dance By Carrara Nour
I love working with Carly! From a vendor's perspective, she's full of great ideas, keeps everybody in the loop with clear timelines, and makes sure everything's running like clockwork. From a bride's perspective, she's not only great at managing timelines and coming up with cool ideas, but she's as sweet and supportive as can be. She takes something as stressful as planning a wedding and makes it easy-peasy and a whole lot of fun, which is NOT something all planners can do! My bride Tiffany repeatedly told me in the weeks leading up to her wedding that hiring Carly was one of the best decisions she made. I can definitely see why. If you're looking for a trusted and true ally to help you bring your wedding dreams to life, Carly's the one to call!
Vendor recommendation from Our DJ Rocks
A Rose Design is so great to work with! Carli makes every one of her brides feel comfortable knowing they will have nothing to worry about the on the day of their wedding. She is also great at creating a fabulous event on any budget! Our DJ Rocks loves working with Carli and her team at A Rose Design!
Vendor recommendation from Linda Rose Photography
Bouquets photograph so beautifully. A true artist after a brides own heart and vision.
Vendor recommendation from Cake Designers
Carli Vetter from "A Rose Design" is a wedding coordinator that pays attention to every detail, so your wedding will be your dream come true.
Vendor recommendation from Sweet Designs Kitchen
I have worked with A Rose Designs of several different weddings and she is the best! She truly cares about each of her clients and uses her years of experience and expertise to create a beautiful event!
Vendor recommendation from A Premier Entertainment
There aren't as many hard-working people out there as the staff at A Rose Designs. The amazing thing is that the work they put in saves you so much money, it pays for their services.

Most importantly, they're always there for you with a smile on their face.. and they make the other vendors feel just as welcomed... I can't even begin to tell you what a great quality that...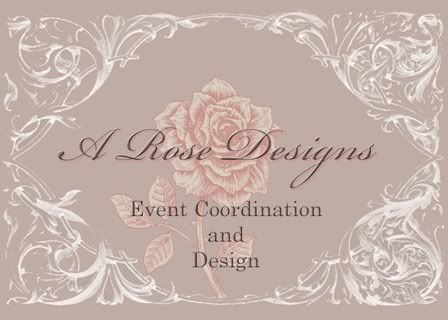 A Rose Designs takes special care of each and every bride that we work with. Our standard for service begins with our
Mission Statement: To provide the everyday person with the most extraordinary day of their life.
This is a statement that we believe in whole heartedly and see every bride as the unique individual they are.
Whether you are in need of someone to make your wedding day run smoothly or that person to hold your hand and guide you from day one to wedding day, A Rose Designs can make that happen. No two brides are the same so why should two weddings! Starting from day one, the design and vision for your special day is all yours. We will custom create every detail so that this most special day becomes an unforgettable event!
If your needs are for someone to come in during those most stressful last two months, we take care of that too! Our Wedding Day Coordination starts two months before your wedding and we take care of everything through Wedding Day.
And for those who want to be the hands on bride who is guided when she needs it most, were there for you too! Your wedding day should be happy and carefree; we can take that stress away to make sure you are the most special blushing bride for your magical day.
With years of experience, A Rose Designs will turn your wedding dream into a perfect reality. Let us make your event a special and memorable one that is just as perfect as the two of you!
Website: www.arosedesignsevents.com Blog: www.arosedesigns.blogspot.com
Facebook: www.facebook.com/arosedesigns Twitter: www.twitter.com/A_RoseDesigns
Contact Us
Carlisha Vetter
954-549-8341 - arosedesignsevents@hotmail.com
What types of weddings do you accommodate?
Civil, Destination, Double Weddings, Eco-Friendly / Green, Military
What wedding planning services do you offer?
Day-of Coordinator, Full Planning, Partial Planning
How many planners do you work with?
We specialize in personal, one on one attention. Therefore, you always work with Carlisha from day one to wedding day. We have an assistant team of 3 aspiring wedding coordinators.
What style of wedding do you specialize in planning?
We specialize in creating unique, personalized weddings that are a true reflection of the couple.
What sizes of weddings have you coordinated in the past?
We have worked with Destination Weddings as small as 7 and full scale Weddings as large as 350.
Which venues have you worked at or are familiar with?
Sheraton Lake Buena Vista, Reunion Resort, Buena Vista Palace, Paradise Cove, The Lake Mary Events Center, The Ballroom at Church Street, Holy Trinity Reception Hall, Windermere Country Club, Bella Collina, The Mezz, The Abbey, The Winter Park Farmers Market, The Winter Park Civic Center, Ceviche, The Grand Bohemian Downtown, The Grand Bohemian Celebration, The Omni Championsgate, The Peabody, Rosen Shingle Creek
Free Meet & Greet Consultation!
Deal does not expire
Want to learn more about wedding planning? Curious how we can make your wedding day run smoothly? Give us a call and schedule your complimentary Meet & Greet Consult! We would love to sit down with you and discuss all of the details for your big day. There is so much we can assist you with leading up to your wedding day, let us taken some of the stress and pressure from planning a wedding off of you! Let's have coffee and talk about you!
Day of Coordination Special!
Expires on 5/31/13
Take advantage of our Day of Planning Special going on now through February 28th! Get our fantastic day of planning package for $350 off the standard price making it just $650! For more information, please visit our website at
www.arosedesignsevents.com
or Call to set up your complimentary meet and greet!
No events for A Rose Designs.
Thanks for visiting the vendor listing for A Rose Designs.
MORE VENDORS