The Vinyl Spinner DJ Services
1

review
0 people have saved this vendor
04/17/2010
Fantastic service! The bent over backward to make sure I had the tunes I wanted and they kept the party up beat and moving all night!
Vendor recommendation from Moments By McKnight
I met Johnny while coordinating a wedding that took place in the summer of 2007.
I was very impressed by how punctual he was, very organized and easy to speak with.
The range of music offered was more then I expected and the sound quality was perfect.
Everything Johnny did on the wedding day was very appreciated, he went out of his way to be helpful and assist wherever he could.
It was nice to see that someone still believed in using Vinyl and not just an ipod or notebook for music sources.
I would recommend this vendor.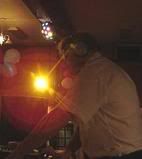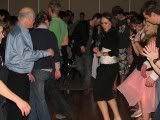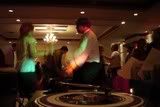 Traditional Tools, Years Of Experience, & A DJ Service That Is Simply Unforgettable!
Vinyl records produce a quality and sound simply not found on digital reproductions; contrary to popular belief, much of today's music is still readily available on vinyl. Using vinyl creates a unique, one-of-a-kind experience for you and your guests, while ensuring up-to-date music and entertainment.

If you agree that vinyl is the superior format; that a "disc jockey" should actually jockey discs, rather than let a computer do all of the work; that a "pro" DJ should have the proper insurance, licenses, and guarantees; and that policies should be dependent on customer feedback, then we are your only option. We take the business of your fun seriously.
Web:
http://www.thevinylspinner.com
Telephone: 604.807.5537 Email: thevinylspinner@shaw.ca



**we never opt out of our obligations to you on your special day; we always arrive with all of the equipment that is necessary; we always set up on time; and no "break down" ever keeps the music from flowing—this is our FULL COMPENSATION GUARANTEE**
What music genres are in your collection?
50s, 60s, 70s, 80s, 90s, Classic Rock, Country, Dance, Funk, Hip Hop, Jazz, Motown, Oldies, Pop, R&B, Rock, Soul, World
Do you have liability insurance?
Yes
Describe your DJ style:
I maintain the traditional definition of "Disc Jockey," by focussing on spinning discs and keeping people entertained by playing the music that they enjoy.
What is your usual attire?
"Business Casual" -- this is my typical attire, as I am constantly moving/dancing while I am spinning vinyl. Other arrangements concerning attire may be made.
If you do not have one of the songs pre-requested by the client, do you require that they provide it?
Unless I cannot find it, I will provide every important song that is pre-requested.
How many other DJs do you work with?
I am a sole proprietor/disc jockey, but I also work with a designated light technician and a hostess (when applicable).
What is the minimum amount of time you will DJ for?
I charge a flat rate, so this is up to you.
Is the client able to meet the DJ before booking?
Yes. Not only will the bride meet the DJ, but she will also get a NO-OBLIGATION preview of my services.
Do you specialize in any ethnic or international events?
I am Greek (so, although I have never worked at a Greek event, I have access to appropriate music and resources) and I used to host Caribbean/Reggae Nights at a local cafeteria.
Do you bring your own equipment?
Yes.
What (if any) special equipment, such as disco balls or lighting, is offered with your service?
I offer lighting. This includes a disco ball which, whenever possible, WILL be hung from the ceiling above the dancefloor.
How much time do you usually need to set up? Do you require that the site or client provide a table for you to set up on?
I can set up quickly; however, I show up at least three hours prior to the time that I must be fully set up. I require that a table be provided for me.
Do you have any extra space requirements?
Noting that a DJ with two turntables and real vinyl records takes up more space than one that shows up with a laptop, I require more space than at least most other DJs.
Do you usually emcee the event or talk between songs?
I usually do not emcee, and I usually do not talk between songs unless there is a special request; however, I am articulate and I can do either when necessary.
What is your policy on taking breaks? If you require a meal break, do you require that the client provide your meal?
No.
Will you arrange for recorded music to play during your breaks?
While I do not take breaks, I still have recorded music (legally licensed by the Audio Visual Licensing Agency of Canada), which I have as back-up.
What is your backup plan in case you become unavailable on the day of the event?
This has never been an issue since I began doing this professionally in 1998; however, I offer a FULL COMPENSATION GUARANTEE in the event that I become unavailable and cannot find a suitable replacement.
What is your overtime rate?
I charge a flat rate, so this is not necessary unless the event continues beyond 2am; even then, I would not charge overtime if everyone is having a good time.
Do you charge for travel expenses? If yes, how much do you charge?
I charge extra for events west of Langley and east of Chilliwack, accordingly.
Additional Advice
Do you have liability insurance? Yes.

Do you have a business license? Yes.

Do you have references? Yes.

Do you sign contracts? Yes.

Do you have a tangible guarantee on your services? Yes.

Do you sit down and push buttons all night? No.

Do you always put the customer first? Yes.

Do you smile while you are spinning vinyl? Yes.




Follow your heart and choose which DJ service is right for you. Most of our clients hire us because of the vinyl aspect. At least some, however, hire us because they appreciate the fact that we take our business of providing fun seriously enough to have a liability insurance, a music license, a business license, and documented feedback from past clients; when you meet for a consultation, with us or anybody else who claims to have these professional credentials, make sure that the documents are shown to you.
No deals for The Vinyl Spinner DJ Services.
No events for The Vinyl Spinner DJ Services.
Thanks for visiting the vendor listing for The Vinyl Spinner DJ Services.
MORE VENDORS